UNFORGETTABLE STAYS
Aegean harmony
COVE PAROS

GC-APPROVED
Cove Paros, a boutique hotel that blends minimalist aesthetics with a distinct Aegean aura is preparing to open its doors this summer in one of the most beautiful cycladic islands. Escape to a stylish sanctuary just a stone's throw from Naoussa.
Cove Paros reintroduces the island as a favourite summer destination for this year's vacations. Nestled just a stone's throw away from Naoussa, the beating heart of the island, this boutique hotel blends minimalist aesthetics with a distinct Aegean aura, the kind that exudes out towards visitors upon the first moment of their arrival. The sea air, the magnificent view of the Aegean, the natural calm and a sense of privacy all harmonise perfectly with the design of the hotel. Created with Cycladic elements and earthy tones, the design of Cove Paros was curated by the architectural firm eDje, which used clean lines, natural materials and fine details to create the ultimate refuge for relaxation.
Located on the enchanting Agioi Anargyroi beach, which becomes a sun-soaked backdrop for all those who wish to spend their days swimming in the crystal waters of Paros. You will also be delighted to know that the gastronomic concept of the hotel has been curated by Gikas Xenakis, a pioneer of contemporary Greek cuisine, who dares to redefine the Cycladic gastronomic tradition with a strong emphasis on pure produce and seasonal ingredients.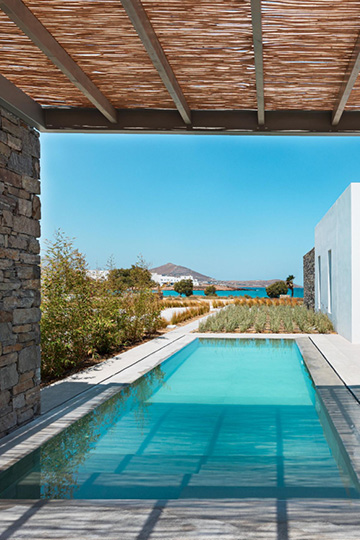 Agioi Anargyroi – Naoussa, 84401, Paros
Tel.: +30 2284028576