LEGENDS
Breaking the shapes
MYKONOS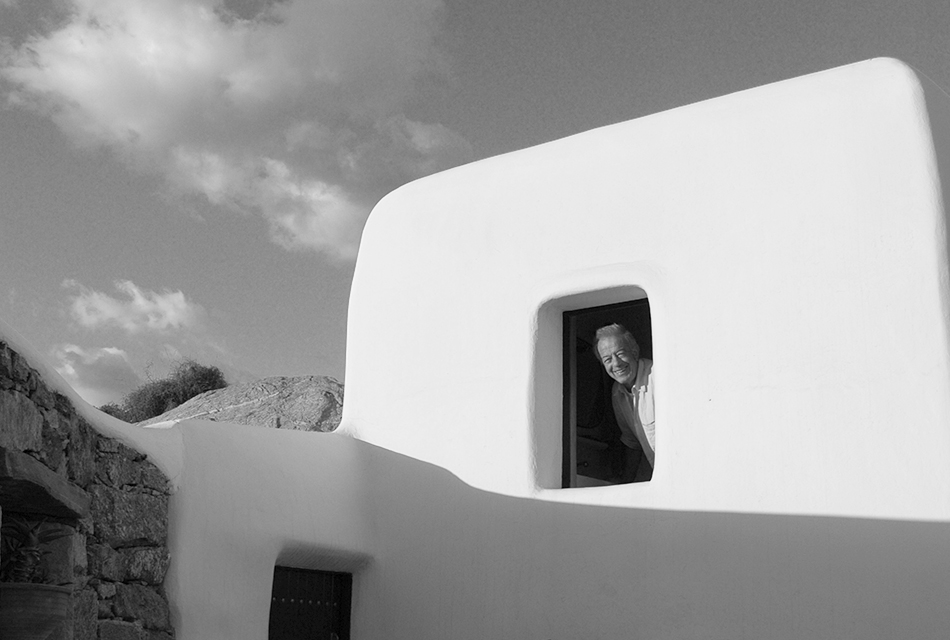 The multi-dimentional, unconventional and idiosyncratic Minas is the artist who linked his name with Mykonos, where he opened his first store in 1998. Very soon the place became a gallery showcasing the designer's recognizable appoach through his creations. Minas walked along with the island building up a significant relation with it.
Minas landed on Mykonos in 1969 and as an artist he felt its inner light. " It was as if I had made a discovery! Especially its architecture, the rounded cute little houses. As luck would have it, this much has been preserved, and there is still a certain degree of uniformity. Then almost every house was one-storied; they are three-stories high now!" he recalled in the first Mykonos Confidential issue.
He ended up on the island after leaving Manhattan where he was living. "When I left to go back to Greece, my desire was to be somewhere without a lot of traffic, people and, particularly, without air-conditioning. In summer the whole city would buzz. I wanted to move further out. I had been to Mykonos before I went to America and I shared the same feelings as everybody else. So when I was back in Greece, I would travel there again and again, until I realized that I had to find myself a house there. And so I did and settled down" he said to Ileana Serafeimaki. His distinctive house in Aghios Patapios, in the middle of the island, became a refugee for artists and friends like the legendary guitarist of Rolling Stones Keith Richards.
© Coutayar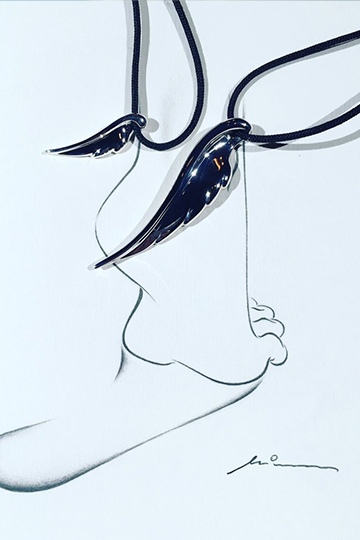 DRIVEN BY HIS SENSIBILITIES AND FLAWLESS QUALITY OF HIS ARTISTIC CREATIONS, MINAS APPROACHES HIS CREATIONS HOLISTICALLY
He remembers how the island was upon his arrival: "There were two humble little houses at Aghios Sostis. (…) There were directional signs to Aghios Sostis and no electricity supply! It is all so much different now. Traces of the island's old authentic character are still to be found, of course, but they are restricted to what Nature has endowed the island with. They are still in existence. And then man comes along and, driven by insatiable greed, tries to destroy whatever he can. That applies to the mayor as well as to people who come to the island to build themselves a house here. Houses designed in Athens, like those you see in Psyhiko and other major suburbs, huge in expanse, complete with swimming pools and things like that. Houses designed by people who have not even set foot on Mykonos".
He opened his first store in Mykonos, in 1998 and walked along with the island, building up a significant relation with it. He managed to project an even more authentic image of Mykonos through two unique creations. Accepting the invitation of the local authorities, to take part without compensation in the restructuring of the historic seafront, one of the island's most beautiful spots, Minas designed a bench and a street lamp, inspired by the nautical tradition, creating a wonderful corner, where you can sit, deep in thought and gaze at the endless Aegean.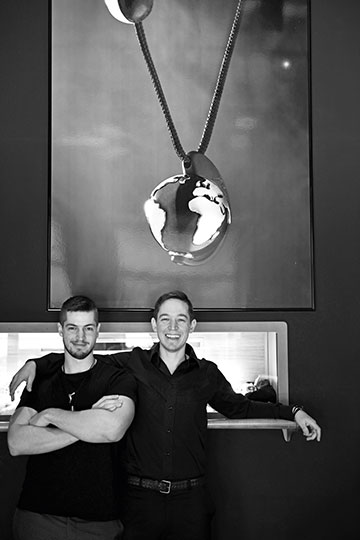 © John Dimotsis
THE NEXT GENERATION
OF MINAS JEWLERY
ARION AND PROMYTHEAS SPYRIDIS
What luxury do you allow yourself?
We grew up in a family with a close connection to music: it's what gives us energy and creativity. Travelling to watch our favourite groups in concert, might seem like a luxury to some, but for us it's of vital importance.
Three elements of your design?
Harmony and balance in their shapes, following the body's anatomy but at the same time are practical.
Minas passed away on the 25th of March 2020.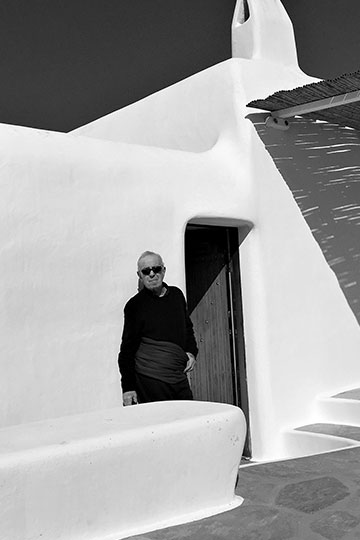 Minas Mykonos
Agia Kiriaki Square 84600 Mykonos Town, Tel.: +30 2289027320
Minas Athens
Emmanouel Benaki 8 14561 Kifissia, Tel.: +30 2106233577