Nature's Wonder
Melissani, the cave of the nymphs
KEFALONIA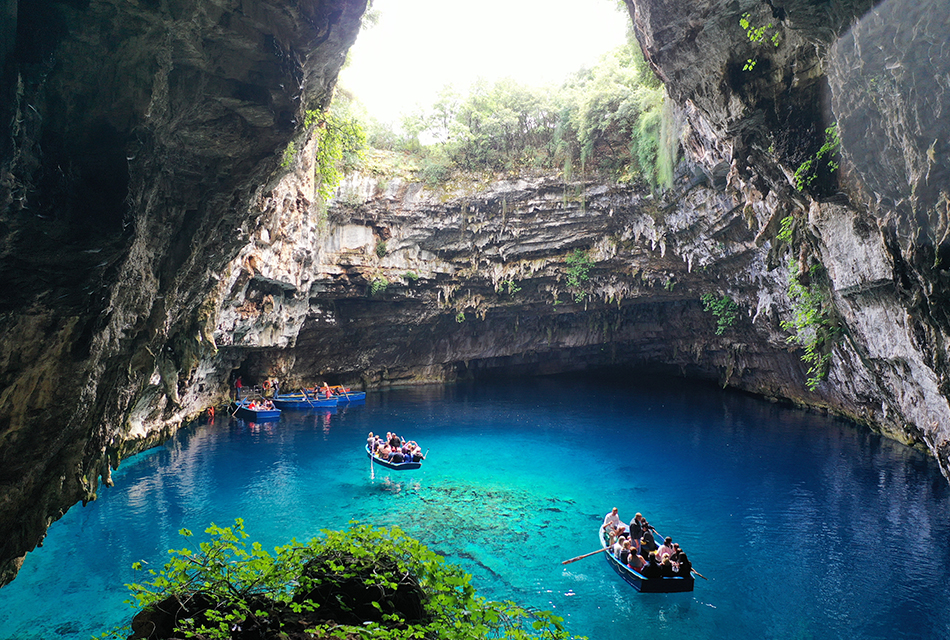 A deep dive into the unique geological phenomenon that is called Melissani cave, which is constituted by a bizarre combination of nature, randomness, Greek mythology, a sanctuary, religious artifacts and on top of all that, crystal clear-almost transparent waters, colours and a view to die for.
The myth narrates that the nymph Melissanthi drowned in the lake as Pan didn't reciprocate her love. It is situated at 20 metres below sea level, featuring emerald waters and spectacular hues formed by the reflections of the sun. The walls have the colour of honey and the cave's stalactites count thousands of years of age. In the middle stands a small islet where local boatmen love telling the story about the unfulfilled love of Melissanthi for god Pan. In fact, if you are lucky, they may even sing a short cantada for you!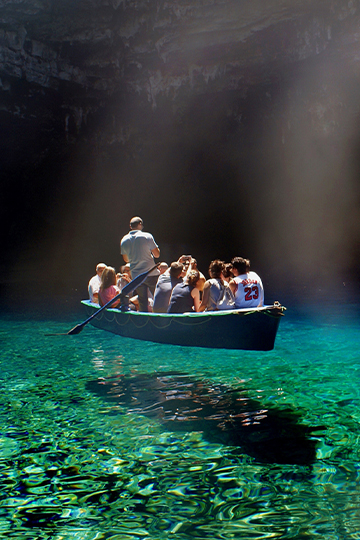 Dionisis Kaminaris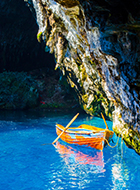 THE VISIT //
THE ONLY WAY TO SEE THE CAVE IS BY TAKING A BOAT TRIP THERE
OPEN EVERY DAY / FROM MAY TO SEPTEMBER
The design / A unique geological phenomenon, resulted when Nature collaborated with randomness. Part of the cave's roof collapsed, creating a vertical natural entrance.
The myth / The god Pan rejected the love of nymph Melissani, and she drowned herself in the lake cave out of despair.
The history / The stalactites adorning its walls were formed about 20,000 years ago, due to water erosion of the rocks. The several religious artifacts found there demonstrate its sanctity. The cave was discovered in 1951.
The dimensions / The lake lays 20m below the surface. Its length is about 160m, its width 40-50m and its depth reaches 10-40m. The natural entrance measures about 40x50m.
The wonder / The light showers the cave with different colours, depending on the time of day. The water, a mixture of sea and fresh water, although it is deep, is unbelievably transparent.