A ROCK IN THE MIDDLE OF THE SEA
Landmark of Aegean Light
ANDROS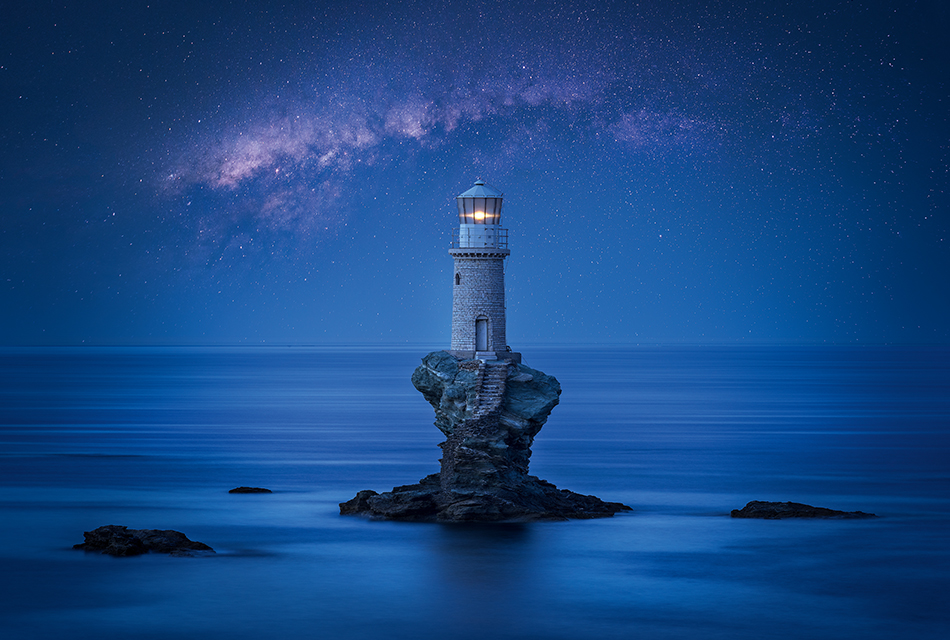 Nestled on a rock in the middle of the sea, Tourlitis Lighthouse, is the first Greek lighthouse awarded a limited stamp collection and also the first automated lighthouse in Greece. It was constructed in 1887 and first operated on January 1, 1897. The construction was of invaluable importance for the navigation of the era likewise all the lighthouses. It stands opposite the Venetian castle in the capital of Andros, Chora.
Perched on a spindly rock spire in the Greek archipelago, it would make a perfect wizard's tower. As lighthouses go, you can't get much more evocative than the Tourlitis Lighthouse, precisely found opposite by the Venetian castle in the capital of Andros Island (Chora). Rising up out of a weather-worn stone spire, the beacon looks like something straight out of a fantasy novel. The lighthouse was first built in 1897. The stone column on which it was built had been shaped by millennia of natural erosion into the perfect pedestal for a coastal beacon. Unfortunately the original lighthouse was not long for this world, and was destroyed during World War II. For a time, the rocky outcropping went without a proper lighthouse, and the fantastical image created by the former structure was all but lost.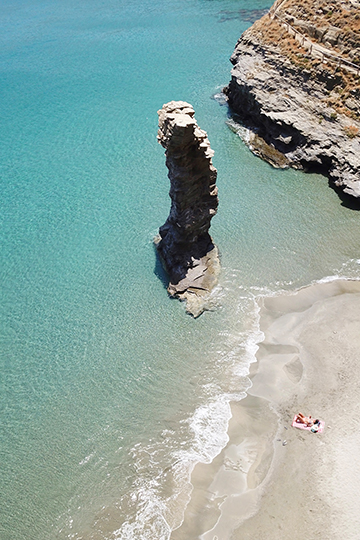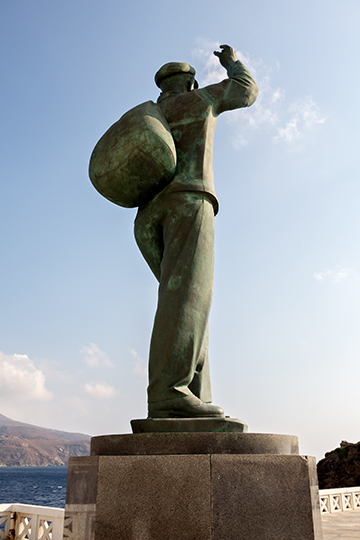 THE UNKNOWN SAILOR IN CHORA IS A TRADEMARK OF ANDROS'S NAVAL HISTORY. THE STATUE STANDS IN HONOUR OF ALL SEAFARERS WHO LOST THEIR LIVES IN THE SEA.
BY THE SCULPTOR MICHAEL TOMPROS, 1959
However, the lovely beacon apparently had an extra life. The lighthouse was eventually rebuilt in the early 1990s by the Goulandris family (an oil tycoon), who dedicated the structure to his daughter. The replica became Greece's first automated lighthouse, eliminating the need for an onsite keeper to operate the light. The altitude of the cylindric tower is 7 metres and the height of the focal plane is 36 metres. A unique Greek lighthouse built on a rock into the sea and the first one to be imprinted on a stamp. But even with the modern upgrade, the lighthouse still looks like something out of Dungeon and Dragons, with the winding staircase hewn from the rock itself, leading up to the door of the tower. Since its renovation, as a unique monument of architecture and history, it has become one of the area's foremost tourist attraction, attracting lighthouse admirers and photographers who come to gaze at its singular beauty.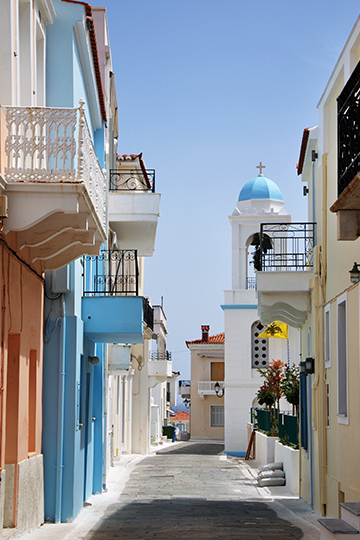 This article was first published in Thalassea Magazine Summer 2018, Issue #1