INSPIRATION
All that Greeks
CREATIVE FACES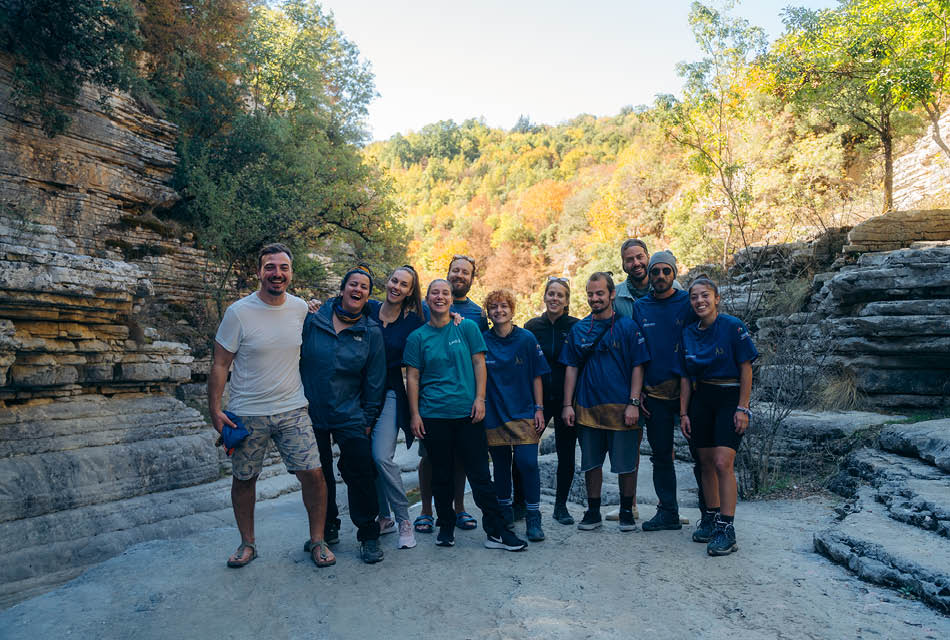 GC-APPROVED
Creative minds, unique projects, innovative people and their amazing stories throughout Greece. They all have three things in common: talent, beauty and inspiration.
PostFolk / Maria-Olga Vlachou
Folk embroidery's purpose has always been to bring joy and abundance to domestic life. With this premise, Maria-Olga Vlachou delves into the past, reworking this traditional art in present day terms. Inspired by the powerful design of tradition and the symbolic motifs of Greek folk art, the graphic designer decided to create her own label. Postfolk is the expression of a retro-future digital craft. A kind of digital embroidery, where the traditional stitch is transformed into pixels. And thus a collection of home goods, including bath and beach towels, fabrics, accessories, decorative objects and limited edition art prints, reacquaints us with the future of our past. postfolk.com
Myrro / Portaria+Archanes
Creative stories are written by groups of friends. In 2011, Alkistis and Myrto, together with their friend Andy, gave up city life and moved permanently to the "village". There they found what they wanted: the calm rhythms of life in the mountains but also the proximity to a huge variety of herbs that grow in the Greek countryside, in order to do what they always loved. The Myrro Tea & Botanicals natural shop opened in Portaria, Pelion, while the certified Myrro Skincare natural cosmetics production laboratory is located in the picturesque village of Archanes, Crete. The holistic skincare range is based on formulas of traditional herbal therapy. The cosmetics are made with ingredients of natural origin, the packaging used is eco-friendly, and all production and standardisation processes are done by hand, so that each product is made with detail and care. In the store you will find local herbs, harvested from the wild or from their own fields, as well as others purchased from producers in the rest of Greece and abroad. Don't leave without trying Myrro's aromatic tea, with blends made here, combining varieties from all over the world. myrro.gr
Alexandra Bissa
She discovered her passion for weaving in Metsovo, where she spent her childhood summers watching her grandmother create colourful handmade fabrics. After completing her studies, she spent a year in the town, learning the art and secrets of the loom from local Metsovo women and then her creative resume was enriched by her Master's degree at the University of the Arts of London. The textile designer uses the loom as the main tool of her artistic expression, weaving textiles of high aesthetic value, while her designs are the result of an open dialogue between past and present, art and the digital age, people and nature. alexandrabissa.com
Gods and Dreams Resort Epidaurus / 314 Architecture Studio
The under-construction hotel complex Gods and Dreams Resort Epidaurus looks like an experiment in harmonising the Greek landscape and culture with a design twist. The conceptual inspiration for 314 Architecture Studio, with lead architect Pavlos Chatziangelidis, for the project, was the therapeutic and recreational character of the Asclepius of Epidaurus, and morphologically the ancient Greek theatre and terraces. The central idea is to create rows of residences that will be developed on the sloping plot, just like a mezzanine. 314architecturestudio.com
Kofimicroastery / Ionnina
In the heart of Ioannina, a singular and specialised coffee shop "serves" its own concept of coffee. The smell of freshly roasted coffee will lead you there. The beans, carefully selected from all over the world, are roasted on site, while roasters and baristas work together with the ultimate goal of perfection. Top quality coffee in your cup is not just an order. It's a whole ritual. The Kofimicroastery's energetic team organises in-house workshops for coffee maniacs who want to learn everything, while there's a collection of mugs and accessories linked to the black elixir that you shouldn't miss. kofimicroroastery.gr
Faye Tsakalides / Marble Rituals
Whether it is for her next architectural project, or for the marble creations she designs, Faye Tsakalides works under a common vision: To create beautiful and functional objects that appeal to all our 5 senses with a huge amount of poetic content. Inspired by Greek history and Scandinavian aesthetics, she chooses the finest marble blocks from Tinos and Greek mainland and creates everyday objects, such as mirrors, serving trays, kitchenware, utensils and even dumbbells. marblerituals.com, fayetsakalides.co.uk
The lap house / Tinos
This country house is an example that sets new standards for domestic architecture, ensuring it a place in the Greek landscape. The Lap Pool House, signed by Aristides Dallas Architects, inspired by the cavities and outcrops of rocks, emerges from the natural landscape of Tinos as a man-made cave, creating new spatial points of exposure and introspection. The dynamics of the building are underlined by the linear volume of the pool that protrudes from the slope and directs the gaze to the horizon. The "bet" to "camouflage" the residence, maintaining respect for the grandeur of the island but also maintaining its dynamic presence, has just been won! aristidesdallas.gr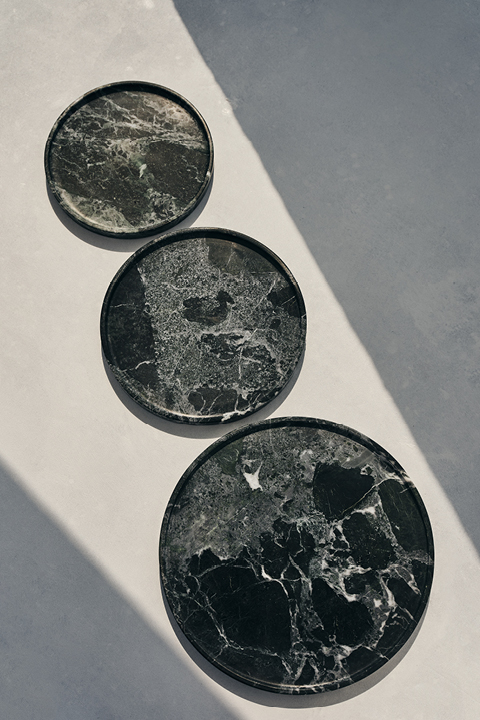 Marble Rituals, credits: G. Kaplanidis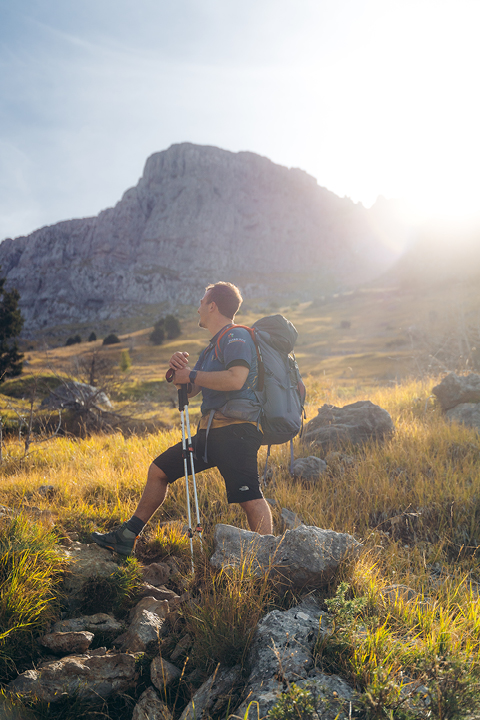 LAMDA3
"WHEN YOU COME ACROSS A PLACE OF SUCH BEAUTY THAT IT BRINGS TO MIND MYTHICAL ERAS AND IMAGES THAT BELONG TO THE REALM OF FANTASY LITERATURE, THEN IT IS DEFINITELY WORTH TALKING ABOUT. WHEN YOU REALISE THAT MAGICAL LAKES, MOUNTAINS OF UNSURPASSED BEAUTY AND BATTLES WITH DRAGONS DO NOT BELONG ONLY IN J.R.R. TOLKIEN'S BOOKS, YOU HAVE A STORY TO TELL."
Lamda3
Lamda3 is a full-service agency specialising in production and strategic planning for the promotion of travel brands. Alternatively, it's an inspired team of creative people who are passionate about the holistic concept of travel, who among other things, as local and cultural experts, organize personalised tours, unlocking access to everything unique and authentic that Greece has to offer. And so, Lamda3 invites us to take a trip somewhere in the Pindos Mountain range, where a group of friends started the search for a… dragon's lake: "When you come across a place of such beauty that it brings to mind mythical eras and images that belong to the realm of fantasy literature, then it is definitely worth talking about. When you realise that magical lakes, mountains of unsurpassed beauty and battles with dragons do not belong only in J.R.R. Tolkien's books, you have a story to tell." lamda3.com
Nivo Soap / Herakleion
At Nivo Soap [Nivo]= wash, clean, purify]] everything is defined by a love for authenticity and innovation. Two young entrepreneurs have managed to redefine a traditional Cretan product, creating high quality skin care, cleansing and skin protection products, with a special emphasis on the production process, the quality of raw materials, the creativity of shapes and packaging materials. Using local vegetable oils and olive oil and combining traditional and modern production methods, the Nivo Soap range was created. Each soap has its own name and character: Nostos, Fresco, Mystic and Pathos, with the images on the packaging artistically supporting each product's history. nivosoap.gr
Kopos premium oil / Corfu
A story that passes through the olive groves of Corfu and travels throughout the Euro. KOPOS extra virgin olive oil is a high-quality product, carefully selected from locations around Greece. Its name, the Greek word for "toil ", reflects the hard work of Andriotis family behind all production stages. andriotis.co
Nomad Premium Honey / Ioannina
When you hear the word "honey," don't you think something pure? So it must be. As the bee gives it. Pure and raw. 100% honey. Different flavors and compositions can satisfy your needs for a fully natural and healthy food. Nomad's home is the highest greek mountains. Where the honeycombs have fresh air and pick up a delicious meal for them, for us. 100% honey Pure and raw. The people of Nomad collect the honey from the hives and remove it from the honeycombs without any heat treatment. They kindly filter the honey to keep its nutrients and not lose any of its rich ingredients. Every kind of honey from their variety is the product of a crop, which makes it a specific, unique and limited production. nomad-honey.gr
Niki and Zoe Moskofoglou / onˑentropy
The quirky onˑentropy is a marble atelier born out of Niki and Zoe Moskofoglou's desire to experiment with the entropy of marble, a physics term that refers to the material's potential for transformation, creating objects that teeter on the edge between art and functionality. Niki is an architect and Zoe an engineer specialising in cultural heritage. They have a deep love for marble, as their family has been working with the material for many years, and are fascinated by its multiple and often contradictory properties: it is rigid, heavy and solid and at the same time can be fragile, plastic and translucent. The two artists create furniture, lighting and objects that feel ethereal, have a sensual texture and an inner glow. Their works are displayed by galleries, museums and international online art platforms. onentropy.co.uk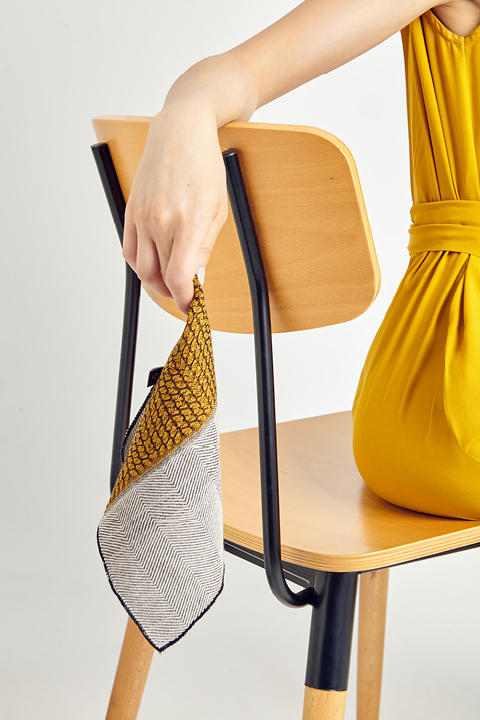 Alexandra Bissa