THE MASKOT
Pelican brief
MYKONOS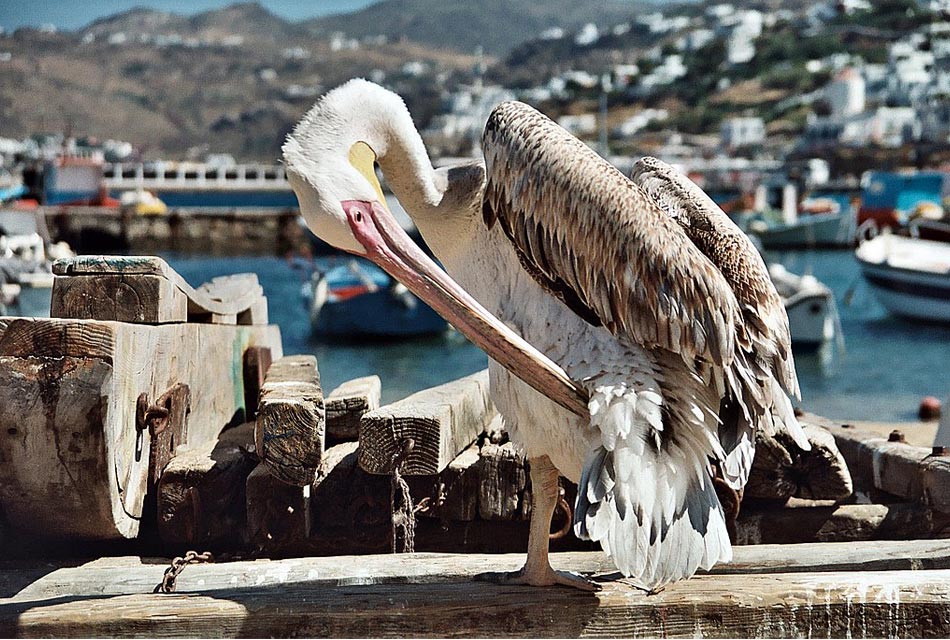 This is an ode to the famous pelican dynasty of the Aegean island which began in 1955 when Petros, the first ever pelican on the island, came unexpected and became the official mascot of Mykonos.
In an autumn morning of 1955, Captain Antonis Charitopoulos was sailing his caique in the north-eastern part of Mykonos when he suddenly saw a burly bird struggling with the wind just in front of his eyes. This bird was to become Petros A', pelican of Mykonos. Arriving in Mykonos, Petros was adopted on the spot by the whole island as well as by another sailor, Thodoris Kyrantonis. Τhe pelican was oddly habituated in Mykonos, ate his fill of fish and enjoyed the human cuddling and was named Petros in honour and remembrance of Petros Drakopoulos, a hero of Mykonos shot by the Germans during the occupation period. Hence, ever since Petros A' becomes the mascot of Mykonos, famous in Greece and abroad, beloved not only by the locals but by the island's visitors as well. Later on, people's interest in the pelican went beyond the narrow Greek boundaries to reach -along with Petros himself- America in the winter of 1972.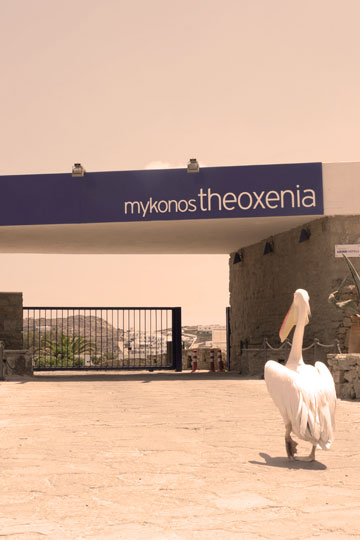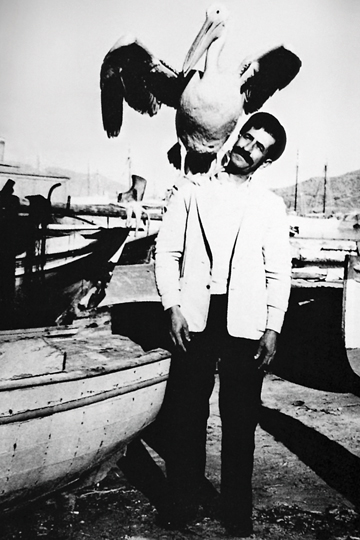 PETROS REALLY ENJOYED THE CARE AND CARESS OF THE LOCALS
Petros' end came suddenly one morning in 1985. While he was playing with the fishermen, he hid next to the wheels of Stavros Koukas' car. Stavros didn't see the poor bird and by accident dragged him when he started his car's engine. People chartered a helicopter to carry him to a bird hospital. Unfortunately though, Petros didn't make it and came back to Mykonos embalmmed causing much pain to all of his friends. Next year though the island's friends and, especially the Mykonian Charalambos Pantazopoulos, brought a three-year old male pelican from Germany who was "baptized" by the islanders Petros II'. Nowadays Petros III rules along with Georgia, his mate, on the island and if you ask a Mykonean what's that whole thing with pelicans, he'll say to you: "Mykonos will thrive as long as Petros, the pelican, is here".