UNSPOILED CHARM
Lemnos is the island you'll want to keep for yourself
LEMNOS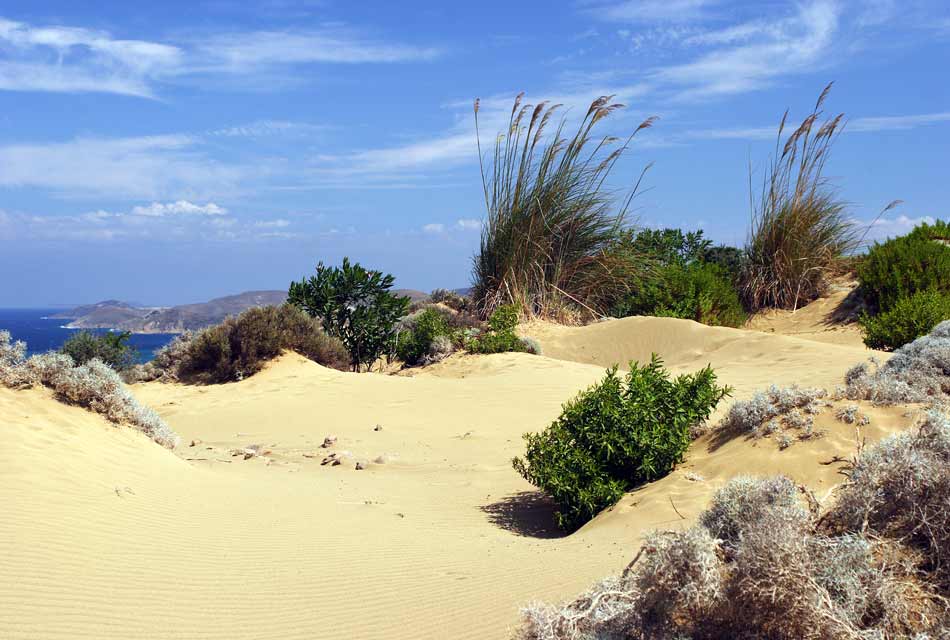 The island's special atmosphere, unique landscape of natural beauty and lacelike coastlines compose an inimitable image. From Myrina and the imposing castle, to historic Moudros and the more isolated villages, this gorgeous island in the northern Aegean will charm you at first sight. Famed for its wines, it is one of the few places in the world where the Muscat of Alexandria grape thrives.
STAY – The island's best hospitality recommendations.
> Lemnos Village Resort: Five-star hospitality with views of Plati, lemnosvillagehotel.com
> Plati Beach: An elegant and tasteful hotel, Plati, platibeach.com
> Varos Village: Τraditional stone-built mansions, Varos, varosvillage.com
> Porto Myrina Palace: A luxury hotel on the beach, Myrina, portomyrinapalace.gr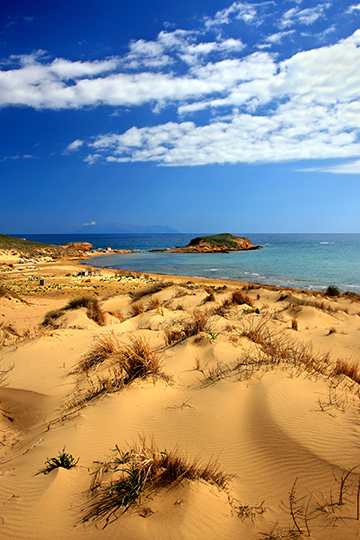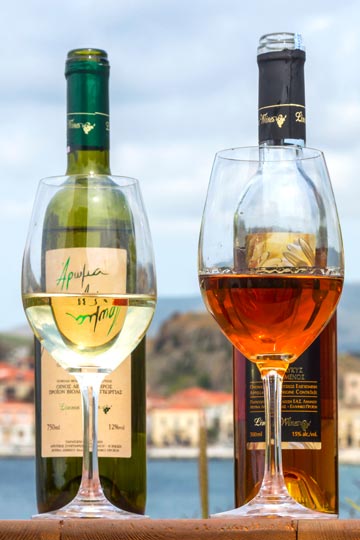 VITICULTURE AND WINEMAKING HAVE DEEP ROOTS IN THE HISTORY OF LEMNOS. HESIOD, ARISTOTLE AND OTHER WRITERS MENTION THE LEMNIA VINE, WHICH SURVIVES TODAY AND IS KNOWN AS LIMNIO, A RED GRAPE WHICH IS CALLED KALAMPAKI.
[Source: greeceandgrapes.com]
EAT – Lemnos' top gastronomic picks.
> Mantella Taverna: Traditional flavours and robust portions (Sardes, +30 22540 61349).
> Ouzeri to "11": Traditional tavern with local seafood and fresh fish (Γληνού, Μύρινα, +30 22540 22635).
> Ennia Poch's: Based on local raw materials, delicious traditional (without exaggeration) traditional recipes (Λύχνα, +30 22540 71742).
> Pezoula Cafe: Cuisine inspired by local gastronomy but also international, with delicious variations (Moudros Village, +30 22540 71059).
> Flomari: Lemnian gastronomy flavours with idyllic sea views (Gomati beach, +30 6976144381). >Menelaos Ouzeri: Quaint taverna by the sea (Diapori, +30 22540 51209).
> Platanos: Ηomemade casseroles (Myrina, +30 22540 22070).
> Sto Kastro: Homemade food (Myrina, +30 22540 20071).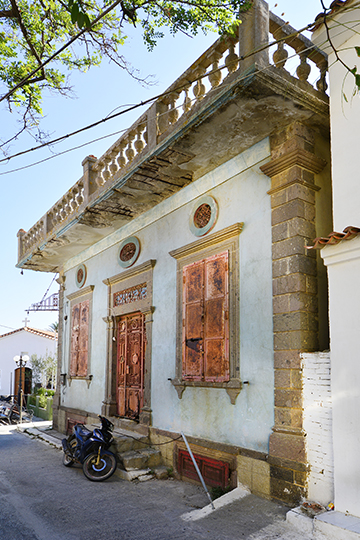 ENJOY – Just outside Myrina, Limnos Organic Wines, a state-of-the-art winery open to the public (11:00-14:00), offers high-quality wines. With respect to tradition, scientific knowledge and years of experience in the wine sector, exclusively from grapes of organic farming that highlight mainly the charismatic variety of Moschato of Alexandria, Limnio, limited quantity of Cabernet Sauvignon and Fokianos are produced along with dry aromatic wines, sweet wines and other specialty products in a limited number of bottles.
limnosorganicwines.gr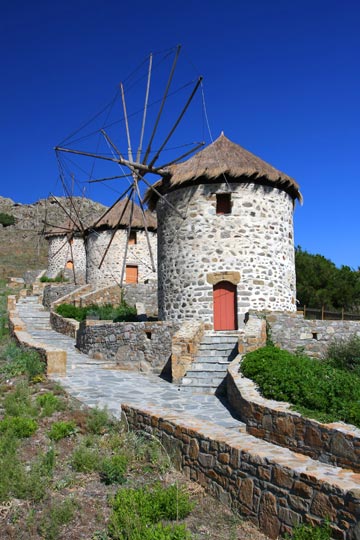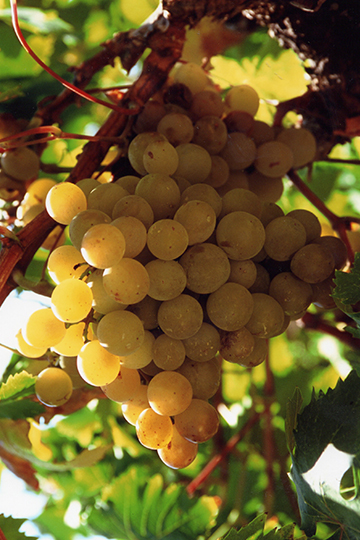 Moschato of Alexandria © Limnos Organic Wines
LEMNOS IS FAMOUS FOR THE WHITES AND ESPECIALLY FOR THE SWEET WINES, DRY P.D.O. LEMNOS AND SWEET MUSCAT OF LEMNOS. MUSCAT OF ALEXANDRIA HAS THE EXCLUSIVITY OF THEIR VARIETAL COMPOSITION. POOR AND VOLCANIC SOILS OF LEMNOS FAVORED THE CULTIVATION OF THE VARIETY.

[Source: greeceandgrapes.com]
DO – Ιmportant, must-visit landmarks.
> Archaeological site of ancient Poliochne: One of the most important settlements of the Aegean during the third millennium BC.
> Chortarolimni – Aliki – Asprolimni: One of the most important wetlands in the country is home to an exceptional ecosystem, composed of more than 4,000 bird species such as herons, pied avocets and flamingos.
> Gallery of Contemporary Balkan Art, Kontia: A unique gallery that hosts the works of great artists from Lemnos, Greece and the Balkans.
> Lemnos Sand Dunes: A taste of the Sahara just outside Katalakkos village with sand dunes.
SWIM – Only a few of the many excellent beaches on the island.
> Small Fanaraki and Big Fanaraki: Two amazing beaches after Moudros.
> Plati beach: A large, organised beach with tourism.
> Havouli: Organised beach, ideal for families.
> Karvounolaka beach: A quiet beach. Part of the track is a dirt road.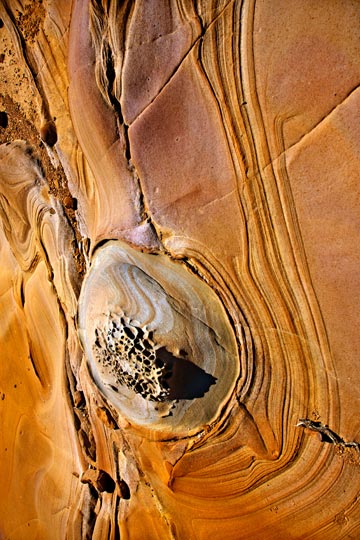 Special thanks to the Municipality of Lemnos (limnos.gov.gr) for the conceded photographic archive.