AUTHENTIC GREECE
Explore the villages of Samos
SAMOS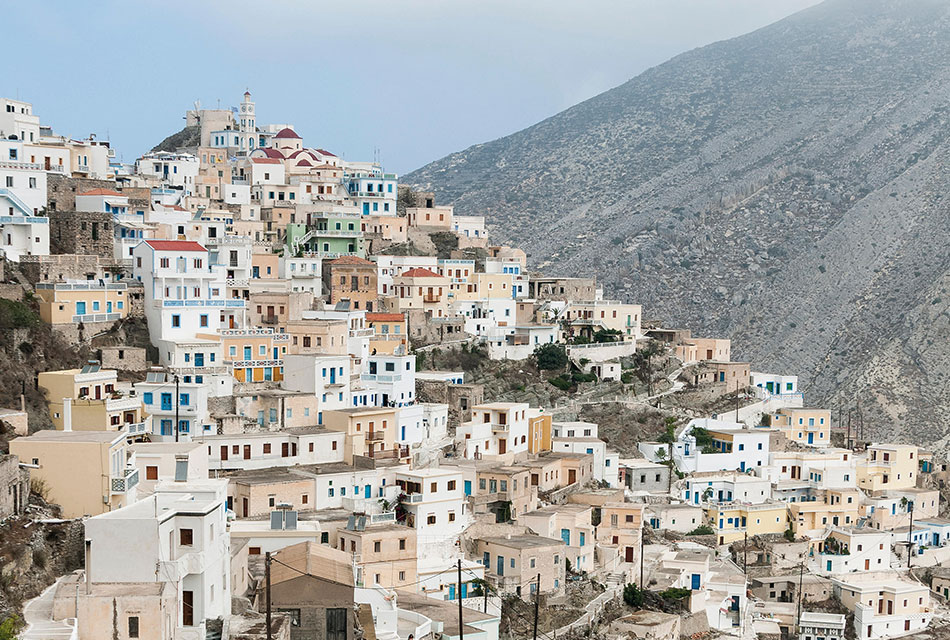 UNESCO WORLD HERITAGE MONUMENTS
When the touristic highlights are over, then the real enjoyment of Samos begins. How many enchanting villages can you fit in your schedule?
Pythagorio / It's not just a picturesque little port, but a significant tourist village, built on Ancient Samos and an UNESCO World Heritage Site. It has a lot of monuments and sights, such as Pythagoras' statue, the Lykourgos Logothetis Tower, Panagia Spiliani and many others. Enjoy it in the day and at night take a romantic stroll on the marina.
Ireo / A single, solitary column is still standing, from the temple of Hera in this seaside area, which in the last few years has organised the Ireon Music Festival. Also, at the end of August the Irea-Pythagoria take place, which revive competitions and events in honour of the goddess Hera.Platanos
A mountain village near Marathokampos, full of plane trees and springs (the Samossong "The water of Platanos" was written for these springs and it's been arranged by Locomondo). Start early, so you can have your morning coffee in the cool square with a view of the Aegean.
Manolates / The route from Karlovasi to Manolates village is probably the most beautiful that you can do on the island, and you'll see the reason a lot of people call Samos "Jungle". Another mountain village, with a lot of picturesque alleys and the famous Lucas taverna is about to give travellers a gustatory reward.
Vourliotes / Picturesque, tasteful and well-tended village near Karlovasi. Ideal for an afternoon stroll and a cool lemonade in the square, returning from a swim in the nearby Tsamadou and Tsabou beaches with the blue-green waters.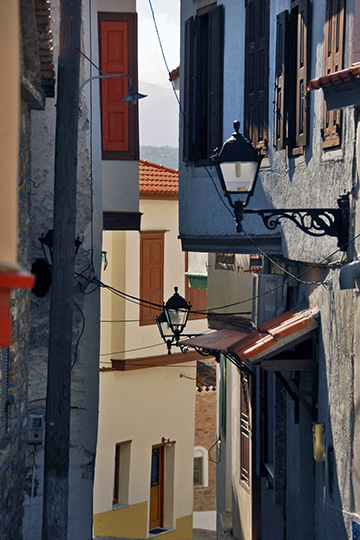 Ano Vathy / ©isamos.gr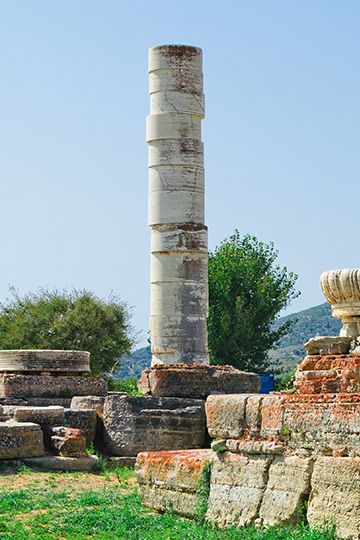 REMAINS OF THE MOST IMPORTANT ANCIENT SANCTUARY OF THE GODDES HERA ARE LOCATED NEAR THE CITY IREO
Potami Waterfalls / Natural waterfalls three kilometres from Karlovasi, creating two very cold small lakes. Start hiking from the Potami area to reach the Metamorfosi chapel, the oldest in Samos. Continue to reach the first waterfall and climb to the rest either with stairs or ropes.
Myli / On the shores of river Imvrasos, hides this village full of orange trees. There's a big orange festival in the spring, while the charming square with plane trees welcomes visitors all year round, to provide them with some respite.
Mitilinioi / One of the biggest villages with "action" in the central square and restaurants with good local food and live music. Don't miss the Museum of Natural History, with fossils of animals which lived in Samos 8-10 million years ago.
Ano Vathi / A quiet destination, ideal for a stroll in the alleys of this traditional settlement. It's worth a visit to admire the architecture and the view of the Port.
Mavratzei / On the feet of Karvounis mountain, the village is on the list of all nature lovers, as it's the starting point of footpaths for hiking and climbing. Don't forget to buy traditional clay utensils from the local pottery workshops.