SENSUALITY ON MYKONOS
In the Realm of the Senses
MYKONOS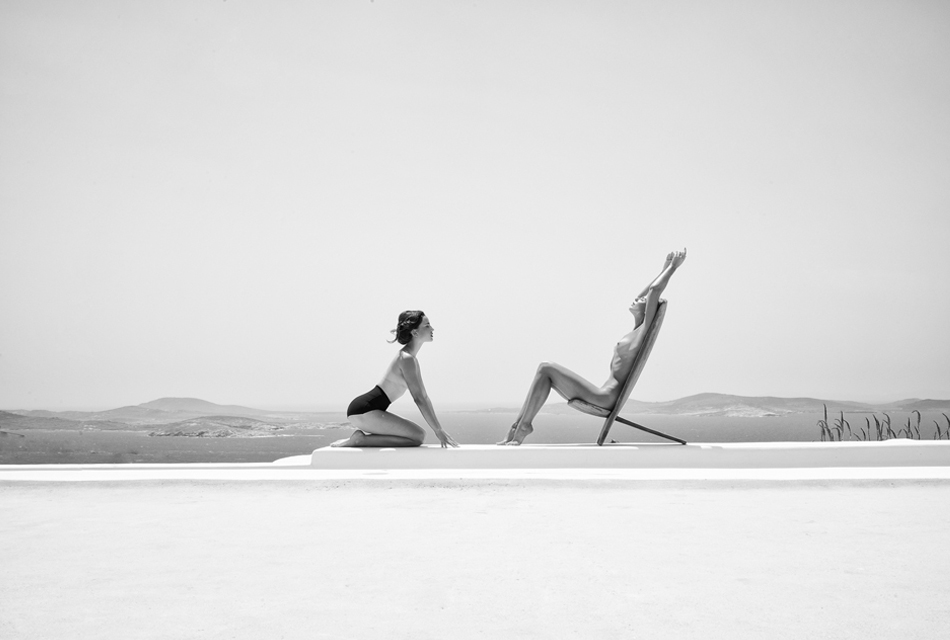 THE SO-CALLED SINS always balance on the threads of contrasts. And there is a serious reason they develop along the axes of life and death, heaven and hell, purity and sin. At the same time, however, they condemn the senses to a subdued presence, colourless and tasteless, almost sleepy. Not so on here; "The haven of the sensory and of the extra sensory" stubbornly pushes away privative suffixes, and immerses itself greedily in a game of the senses that is boldly served in abundance on its barren rocks.
That's why I claim – I really do – that those "gurus" of Tourism Marketing who are ignorant enough or ridiculous enough to insist on explaining and selling the island as, more or less, only a miraculous "sun and beach" brand, frankly, they don't know shit! Excuse my language and bluntness, but they are only doing half the job and quite simply, they are missing the point; they skip over the fact that the ideal alternative holiday destination of the 1960's has been metamorphosed into a Mecca of unparalleled hedonism. And the truth is that, as we speak, Mykonos has become the 'Big Apple' not only of the Aegean, but of the entire Mediterranean.
Its small dimension becomes a veil which, when pulled away, reveals a hidden El Dorado. An extra-large dreamland in which the most serious of deadly sins become a simple misdemeanour. There is no room for self-flagellation on this island. It is consciously arrogant. It answers only to its crazed wind.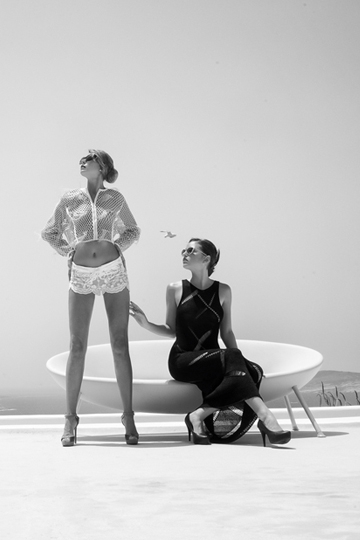 MYKONOS NURTURES THE GUILTY LUST FOR OTHERS, BECAUSE THE ISLAND ITSELF IS CREATED TO LIVE LIFE TO THE MAXIMUM.
Of course, you can always blame the apple for everything, red and juicy as it is: you chase it all day in the hope that once you bite into it, it will beam you up to a world beyond, where strict taciturn divisions break down each other's barriers and penetrate into timeless fluidity. Sin defines our weaknesses, the acceptance of our transience and, in a final analysis, our "I – saw – the – light" tendency towards catalysis (that's what laws are made for). The point, however, is not the philosophy (or is it?); it is the light, the crazy wind, the white curves, the promising alleyways, the essence of saltiness, the most feminine full moon, the fiery waves crashing against the rocks, the impulsive parties, the caressed sand, the sweet isolation and the unique explosion of eternity in just a fraction of a second. On this soil, purification passes through sin.
This rock makes up for its isolation with open horizons, so it's no coincidence that the island is reminiscent of Patrick Suskind's film "Perfume". It silently releases an erotic eau de parfum, which, in a manner inexplicable to neuroscience, is relieved once you leave.
Mykonos nurtures the guilty lust for others, because the island itself is created to live life to the maximum. It is the 'Gomorrah of the Med', you might hear; beware! But wait a second; is it wrong to want it all? Isn't human nature greedy? Isn't Life always thirsty for action and fun? To suck out the marrow and lick all the pleasure and pain you can out of the bones? And this sanctuary, with its magic, motivates you to want it all here and now: the greed of the experience of desire.
On this land you are a realist, because you simply seek the impossible. An emotional cosmogony that finds its territorial plasticity somewhere between Mykonos and Delos, the sacred island of the ancients, the commercial centre of the Classical era. It can't be. All this affluence of matter and intellect must have left enough of a mark for the island to now pulsate and expand like a stray asteroid in the Aegean. Heavenly body and spirit or, in other words, the much-talked-about energy of the place…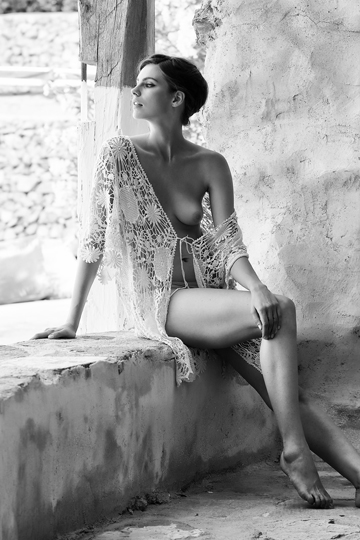 So, what is left? The society of the spectacle, which Guy Debord defines as "the decline of being into having, and having into merely appearing," a state that he describes as "that historical moment at which the commodity completes its colonization of social life. Thus, the spectacle is not a collection of images; rather, it is a social relationship between people that is mediated by images." And in a world in which everything is constantly being turned upside down, the truth is no more than a momentary lie. In the case of Mykonos, though, this kind of Marxist approach has no place. When we talk about the society of the spectacle, we simply mean that we have all become a spectacle. To stick up for the island, I wouldn't consider that such a bad thing; quite the opposite in fact. Because at the end of the day, is it so bad to allow a little glamour to brighten our national blues? The whole experience might be irritating for some, or indeed everyone, but between you and me, rather than a serious and constipated nothing, I would prefer a theme park or a carnival with barkers encouraging us to "roll up, roll up and gaze in wonder at the three – headed frog and the disembodied head!" A social bazaar, a post-Oedipal social space in which the only prohibition is the prohibition of every prohibition. But that's what this place should be and what it always has been: a festival. Nowhere else do you have such freedom to behave inappropriately.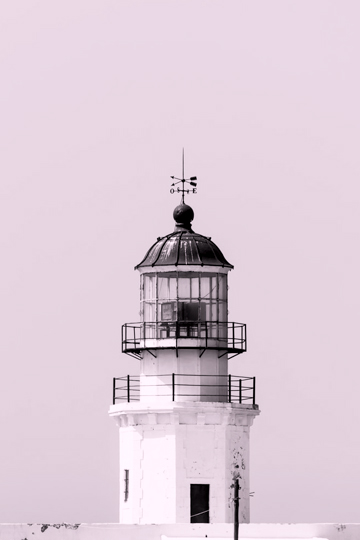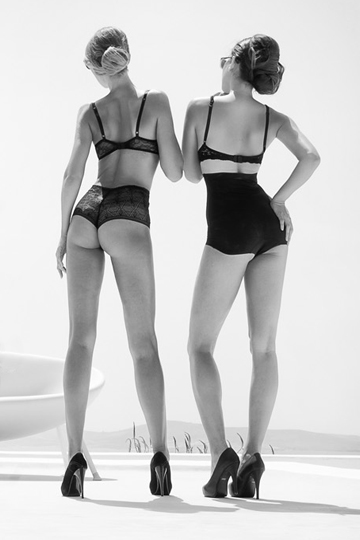 THE HAVEN OF THE SENSORY AND OF THE EXTRA SENSORY STUBBORNLY PUSHES AWAY PRIVATIVE SUFFIXES, AND IMMERSES ITSELF GREEDILY IN A GAME OF THE SENSES THAT IS BOLDLY SERVED IN ABUNDANCE ON ITS BARREN ROCKS.
Enter a Mecca of unparalleled hedonism, the ideal place for people who would rather party than sleep, or who want to develop their acquaintanceship with a bottle of fine whiskey, the wild life is added to a hedonistic cocktail of sun, sea, music, cheap alcohol and drugs, sex and an expectation of extremes. Anything can happen here. It is an epic of excess with plenty of opportunities for one night stands. As DH Lawrence has put it, "that was what they all wanted, a drug: the slow water, a drug; the sun, a drug; jazz, a drug; cigarettes, cocktails, ices, vermouth. To be drugged! Enjoyment! Enjoyment!" The enclave is a place of hedonism and comes obligation-free, like Fitzgerald's Riviera, where although the body, as an object either of desire or of pity, becomes "vulgar" (the term as used by Baudrillard, that intellectual of critical irony), it is at the same time absolute, because it no longer has any value or depth. "Ecstasy," says Baudrillard, "is the quality proper to anybody that spins until all sense is lost, and then shines forth in its pure and empty form." Or, to spell it out, when you behave like a convict on the run. And don't imagine that I use these words lightly.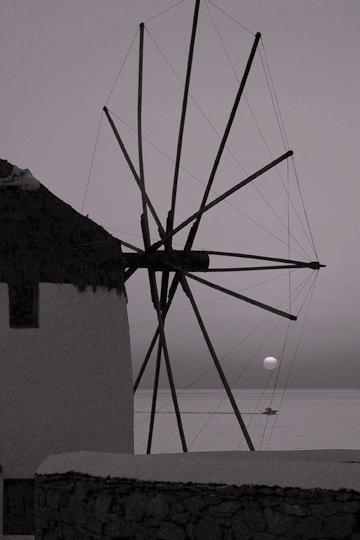 HERE YOU ARE on the threshold, where life and the law, inside and outside, civilization and the natural state, become confused. Whether or not you have graduated in savoir-faire from Eton and Oxford, leaving behind your home, the daily grind and your social and ethical environment to enter this entrenched, exclusive and obligation-free Twilight Zone, it means swallowing the antidote to civilisation. Free from constraints, away from home and "naked", i.e. liberated not only from your clothes but from anything that might link you with your public role, you become a person without boundaries, without ties, without substance, and in the end, without qualities. Because, quite simply, the sun abhors such thoughts. And once you are, inevitably, caught in the web of even the mildest form of possession – in which you will be caught, even if you think you're untouchable – to which you surrender with more or less talent or certainty, for just a little you taste (like every possessed person) the passive joys of a loss of identity and the more active pleasure of role-playing. That's the Mykonos Boot Camp. A carnival that carries in its bags the colonial roots of the naked life. An anti-religion of the senses that is characterized by the primacy of pleasure, together with coded innuendo promising sexual adventure. Let's help one another, so that we can arrive at a place where the bed takes the place of the polity, as Sade would have it, along with other Sadian aphorisms of pleasure such as "I have the right to enjoy your body and you have the same right to enjoy mine". And, please, do not tell me now that you have never, not even from a place of safety, imagined that in the vocabulary of tourism, any reference to freedom might contain a coded message of sexual adventure. Come off it! It was more or less in this way that the isle, like Bataille's Festival of Rapture, acquired the reputation, but also the clientele, of a place with an eroticised morality, serving up countless different kinds of brief encounters, and opportunities to rid oneself of whatever defines one's personality.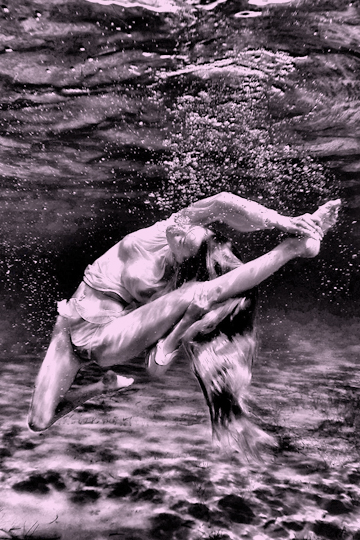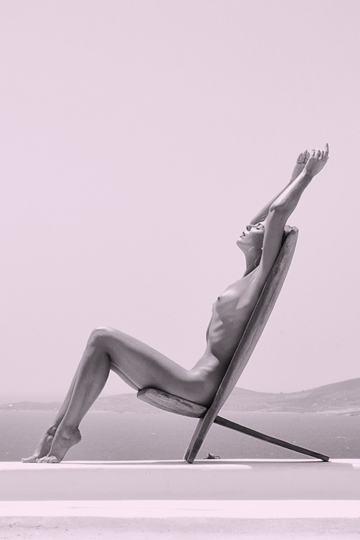 AND FINALLY, IF EROTICISM IS DEFINED AS "ASSENTING TO LIFE EVEN IN DEATH" IN THE WORDS OF GEORGES BATAILLE, THEN WHAT IS MYKONOS? PERHAPS IT IS GREECE'S LAST STRONGHOLD, PERHAPS IT IS THE MEANING OF LIFE.
And don't let me hear you argue that this transcendental aspect of the Mykonian summer – or the summer on any island, to be fair – is a clarion call to return to nature. Because if it was, everyone would flood in like naive hippies with flowers in their hair, bright Ouzo Power T-shirts and the peace symbol, to pick flowers on the hills around Ano Mera. I'm talking about something deeper here, which can explain why the island functions as a Club of Youth, the luxurious setting for the emotional education of every outgoing young person. Here on the island, rules are in abeyance, not done away with. Breaking a rule does not suppress it, but suspends it. Transgressing it completes it. And this is a matter of to-ing and fro-ing, just like the flying trapeze at the Cirque: the taboo prevents the infringement, but its attractiveness demands it. This strange dual economy of desire and aversion, of what is admired and what is deplored, or of infringement and affirmation, explains how it is that a tourist, oscillating between two poles, becomes a party animal and a Don Juan (whether a bargain basement version or not is unimportant). And then, when everyone goes back to work in September and has to sober up or seek refuge from their families, they will come and tell you about their holiday as a cultural narrative or a traveller's tale. My ass! I don't know what happens in Paris, but right here, it is sexual desire that, as an integral part of the process, has established tourism as a carnivalistic practice.
Photography by Vassilis Pitoulis.
Organization of production (Photography & Filming): Dimitris Christopoulos