HIDDEN ATHENS
The colour of the streets
DREYK THE PIRATE, ATHENS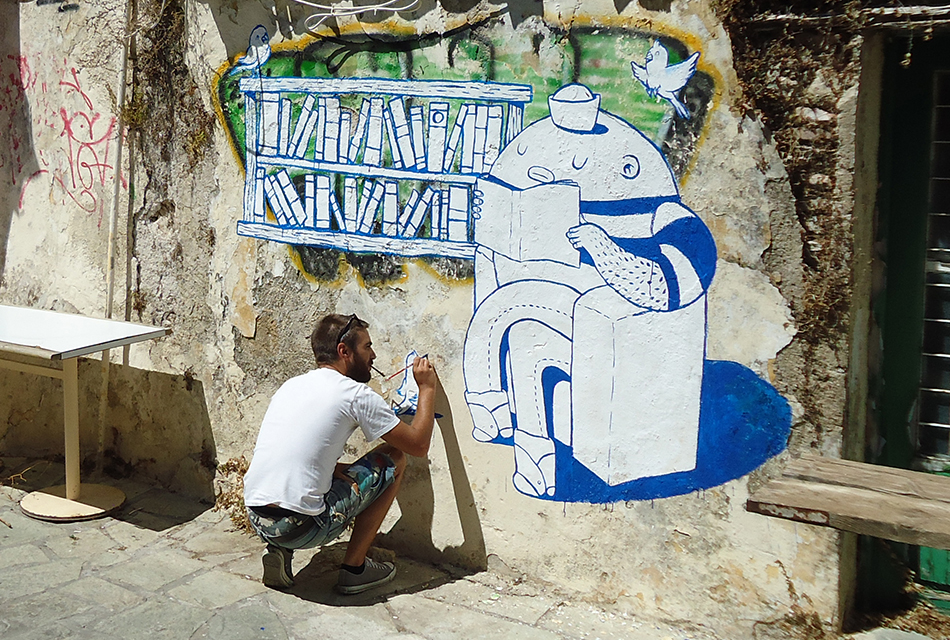 The street artist and illustrator with the plump blue-white sailor trademark, brings colour to abandoned buildings in Athens.
Dreyk the Pirate loves illustration ever since he was a kid. In the late 90s he started from traditional graffiti and under the influence of his studies on Graphic Design in 2004 got in the street art movement, where he established the sea imaginary as a motif. In 2006 he graduated and started working as Art Director and illustrator, mainly in magazine publications. He loves drawing in the streets worldwide, fat poor sailors and his colour palettes are usually duotone. He participated in many group exhibitions, festivals and culture events. Since 2016 he lives exclusively as an artist working personal projects and commissions.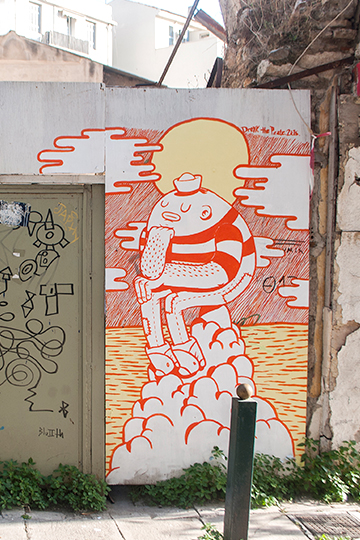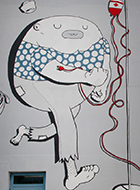 MURAL
FOR THE NATIONAL BLOOD DONOR CENTER OF GREECE,
ATHENS 2018
PHOTO: KOSTAS KALLIPOLITIS / PHI FACTOR PHOTOGRAPHY
Based on your characteristics, what's your contribution to Athens?
I work almost always in the morning and never paint on clean walls. Abandoned buildings are my weakness. There's nothing in the world that makes me happier than painting in the street. My sketches come out optimistic, with doses of humour, light melancholy and with an emphasis on Greek traditional elements. So, from that perspective, there might be people who appreciate this and see it as a positive intervention on Athens' image.
What can a traveler find only in Athens?
The quantity and the quality of street art and graffiti in the Athenian streets, is an inseparable characteristic of our city and is counted on the plus side.