COAST TO COAST
Where to swim in Halkidiki
HALKIDIKI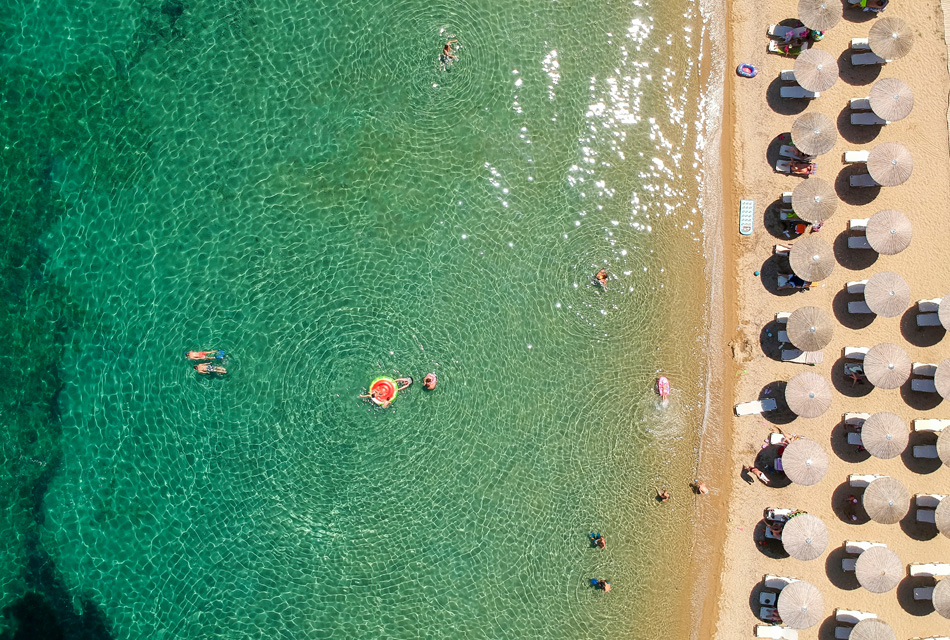 Chalkidiki boasts an amazing coastline of 550km, featuring turquoise-coloured waters and exotic beaches. Explore the top ten beaches of Chalkidiki for diving, socialising and enjoying carefree summer days.
Nea Kallikrateia, West of Chalkidiki / Fully organised, with sunbeds, umbrellas, lifeguard, water sports services, easily accessible for people with disabilities, transparent waters and beach bars.
Poseidi, Kassandra / A 2-km. beach with wide coast, crystalline sea, in a location ideal for romantic dives on sunset. It took its name from a 19 th-c. lighthouse.
Sani, Kassandra / The blue sea and the green trees dominate this beach that boasts full amenities along with golden sand, crystalline waters, modern infrastructure and a lot of environmental activities.
Kavourotrypes, Sithonia / Two small coves with blue-green waters, white rocks and verdant hills, accessible only by foot, at a small distance of Sarti.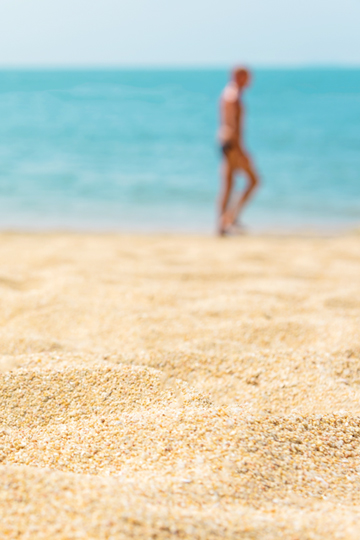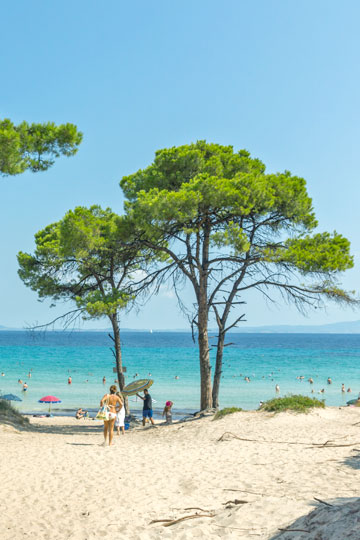 FROM THE WEST TO THE FOOTHILLS OF MT ATHOS, BEAUTIFUL BEACHES REVEAL THEIR SECRETS
Karydi beach, ? Stoyanh / Shutterstock
Karydi, Vourvourou / Exotic, sheltered from the wind, its white sand and the natural shade from the trees makes it special, and because it is calm, with shallow waters is ideal for families.
Kriaritsi, Sykia / Wild, rocky scenery, gold sand and blue-turquoise waters, perfect for camping. The access is difficult, but diving in the deep waters it's worth it.
Trani Ammouda, Ormos Panagias / The remains of a tower in the background and Mount Athos right across it, combined with its white sand and blue waters has made it one of the most popular choices.
Armenistis, Sithonia / Equipped with sunbeds, beach bars and water sports, it stands out for its emerald waters, the golden sand and the verdant scenery, while it is included among the best choices for camping.
Alykes, Ammouliani / Transparent, pristine waters in turquoise and green hues, white sand and a verdant natural landscape are the reasons why this heavenly beach was awarded with a Blue Flag.
Komitsa, Mount Athos / Two beaches: one with amenities and a lot of people, the other ideal for loners. Both featuring turquoise waters, white sand and a view to the lush green scenery of Mount Athos.