The magnificent 4 local flavours
The trademark tastes of Thessaloniki you can't miss
THESSALONIKI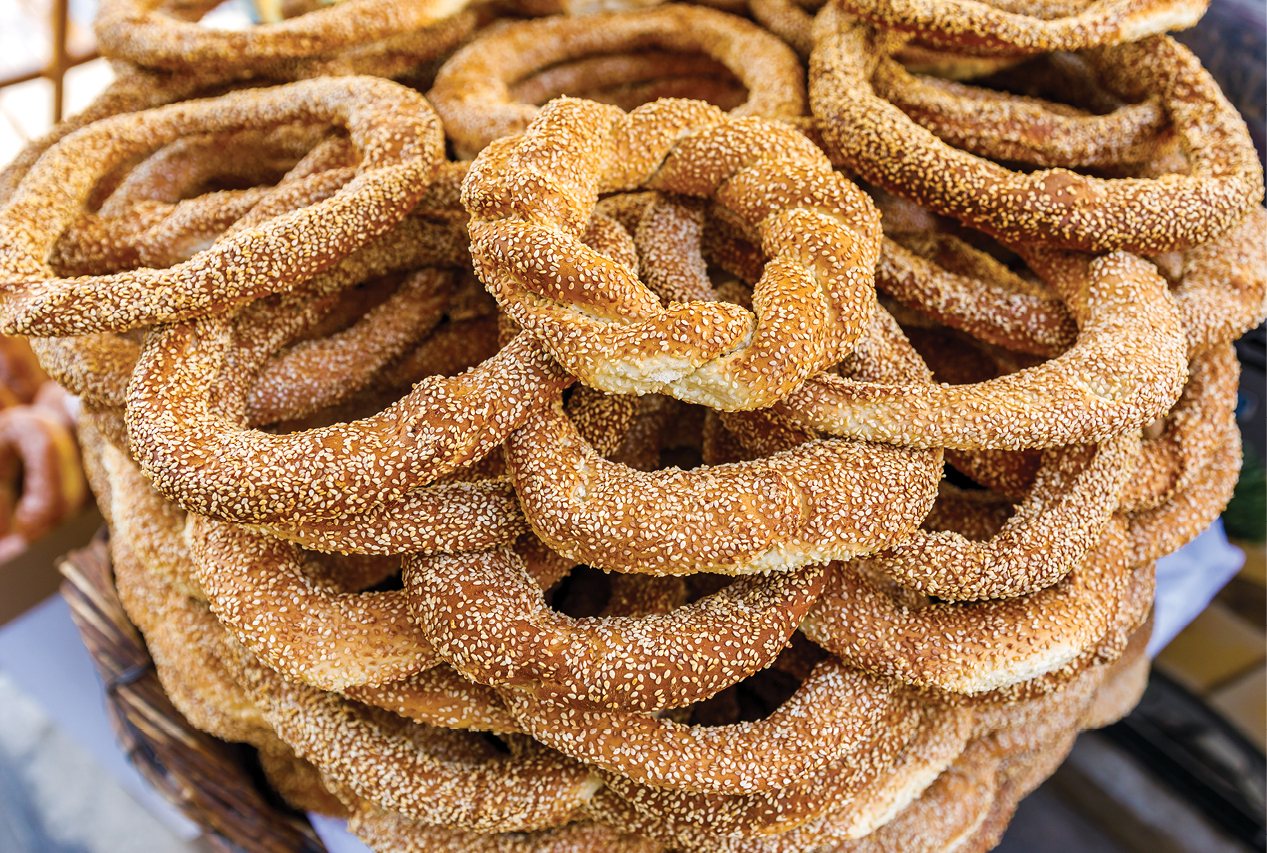 From the official breakfast meal «Koulouri» and the famous iced coffee "Frappé", to the sweet or savoury "Bougatsa", and the controversial patsas, these are Thessaloniki's trademark food products that make her the gastronomic capital of Greece.
Frappé
How to make the perfect frappé:
Throw one or two spoonfuls of coffee, a bit of water and (if you wish) some sugar into a coffee shaker.
Shake up the blend very well.
Add extra water on top.
Serve in a tall glass with ice cubes and a straw.
Alternatively, stir it up using a special electric mixer.
The Frappé stats
1901: Instant coffee is invented by the Japanese Sartori Kato.
1957: During Thessaloniki International Fair, Dimitris Vakondios adds cold water instead of hot for the first time, bringing today's cold frappé to life.
1982: Frappé becomes a song lyric by Greek singer-songwriter Manolis Rassoulis.
50 years: That's for how long owner Christos Lentzos served the strongest coffee in Athens, in one of the city's most cult cafés. His secret? An extra spoonful of coffee on top of the foam.
1: Spoonful of instant coffee contains 27 mg of caffeine.
65-100 mg/100ml: The amount of caffeine contained in a frappé.
140 mg/100ml: The amount of polyphenols found in a frappé.
2,000: Are the ingredients found in coffee.
A pop-up museum: Dedicated to the history of frappé was put together for 82nd Thessaloniki International Fair.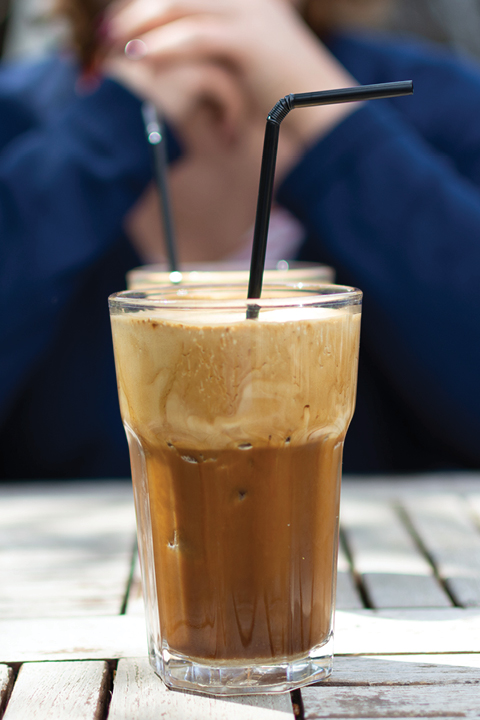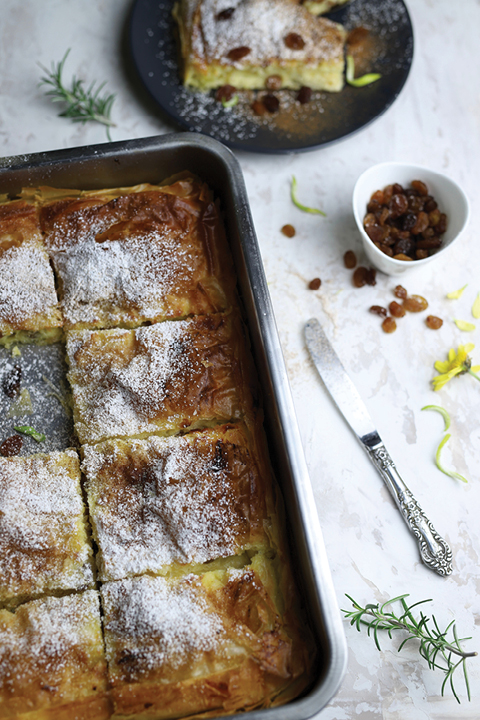 FOR BREAKFAST, MEAL OR SNACK, FOR SOMETHING SAVOURY OR SWEET, BOUGATSA IS THE WORD
Bougatsa
Bougatsa was loved at the Byzantium and it was brought in Greece by Greek emigrants of Asia Minor, when many of them settled in Serres, from where it spread. The name derives from the Byzantine Greek word pogatsa.
The bougatsa stats
300 kcal: Per 100gr is the nutritional value of a semolina custard bougatsa.
182 kgr: 20 m length and 60 cm width was the bougatsa that won the Guinness award.
Artistry: The phyllo sheet is opened by hand and this is a very difficult craft.
In 2008: The biggest bougatsa in the world was made in Serres and was included in the Guinness Book of Records.
The filling: Cream, cocoa, nougat praline, cheese, spinach, meat, or without filling, only the phyllo pastry sprinkled with crystallized sugar.
10-12: Phyllo sheets are used for a bougatsa.
Variations: Bougatsa in Veria is very sweet and full of cream, while in Thessaloniki is crunchier and not that sweet. In Northern Greece you have to say what type of bougatsa you want, sweet or savoury, but for the South bougatsa is only the creamy one. In Crete is made with myzithra cheese, whose slightly acidic taste goes wonderfully with the icing sugar.
Koulouri
Greeks know that you can't start a good day without a koulouri in hand. The ultimate street food of the city is a sesame ring made of soft bread dough. Bakers from Epirus and refugees from Asia Minor brought it in Thessaloniki in the early 20th century and kept producing it, as this Greek version of the bagel soon blended into the locals' diet. There's no crowded street in the city without a koulouri cart, whereas you can always pick one from local bakeries as they keep coming fresh from the oven. A perfect 24/7 choice, the koulouri also proves to be a perfect snack for the hangover!
The koulouri stats
The koulouri started its gastronomic journey in the Byzantine era.
150,000 – 200,000 are sold in Thessaloniki every day.
This tasty ring comes in many delicious versions: wholegrain, multigrain, corn flour, or even filled with kasseri cheese, chocolate, olives, raisins and tahini.
It costs around €0.40 – 0,60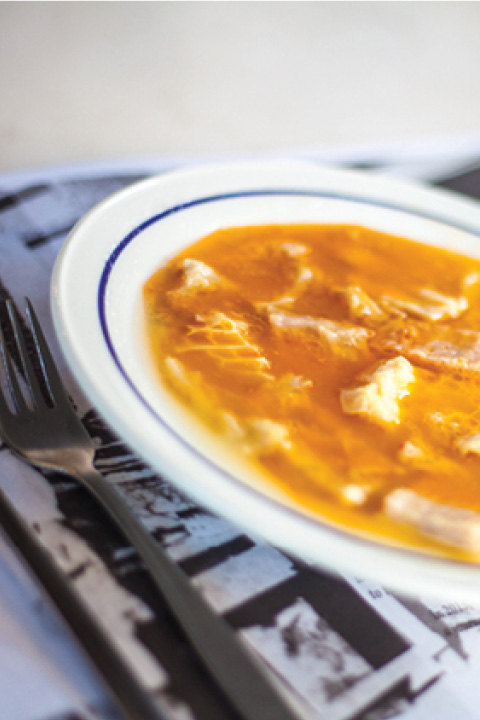 Tsarouchas Restaurant
PATSAS IS MADE OF BEEF LEG MEAT, WHICH CONTAINS COLLAGEN BY MORE THAN 33%
Patsas
You may either love it or hate it, but this unusual dish has turned from a working-class classic to a delectable new favourite for the wealthy. The art of preparing patsas, the famous tripe soup, was launched in Thessaloniki in 1933 by refugees from Asia Minor. Amongst them was Vassilios Lenon, who has been orchestrating the kitchen at Tsarouhas brothers' tavern, establishing it as one of the city's best patsas houses. Ever since its first days, Tsarouhas' livro d'oro has included famous Greeks artists, while even Lou Reed and Nick Cave have tasted this local specialty here. Apart from the successful recipe that has remained unchanged for over sixty years, the overall gastronomic experience at Tsarouhas consists of an entire ritual; the cutting technique, the sound of the cleaver on the marble table, the serving method, the spicy seasoning…
Loyal fans as well as the internet word of mouth have placed Tsarouhas amongst the best hot spots for visitors who come here not only for a yummy bowl of tripe soup, but also for its gourmet new entries, such as the patsas made of 100% buffalo meat. Although typically considered a rather "junky" treat for after hours, this tripe soup is actually one of the cleanest and healthiest dishes. It is made of 100% fresh beef meat coming from the animal's leg, which contains collagen by more than 33%. No wonder why a famous Greek entrepreneur, a loyal Tsarouhas enthusiast, once hired a taxi to deliver him this mouthwatering delicacy all the way to Athens – and then did it again! That sure took some guts… estiatorio-tsarouchas.gr
Order like a local
Douzlamas: Soup with chunky pieces of tripe.
Soupa: Soup with fine chopped tripe.
''Enan patsa'': You just ordered a soup with beef leg's meat.
Anamiktos: A dish that includes both tripe leg's meat and tripe (stomach and duodenal –no intestines).
Bukovo: Slavic word for ''spicy''. That's the Mediterranean version of chili, made of dried red hot peppers.
Kokino: A sauce made of animal fat and sweet red pepper.
Skordostoumbi: Vinegar with garlic cloves.
Anef: Without skordostoumbi.
Anef-anef: Without skordostoumbi or kokino.
Satira: The heavy cleaver used for tripe chopping, whose sound is music to patsas lovers' ears!
Source: The Coffee Science Information Centre