PASTRY CHEF
He delivers fresh pastries at your door
ANTONIS SELEKOS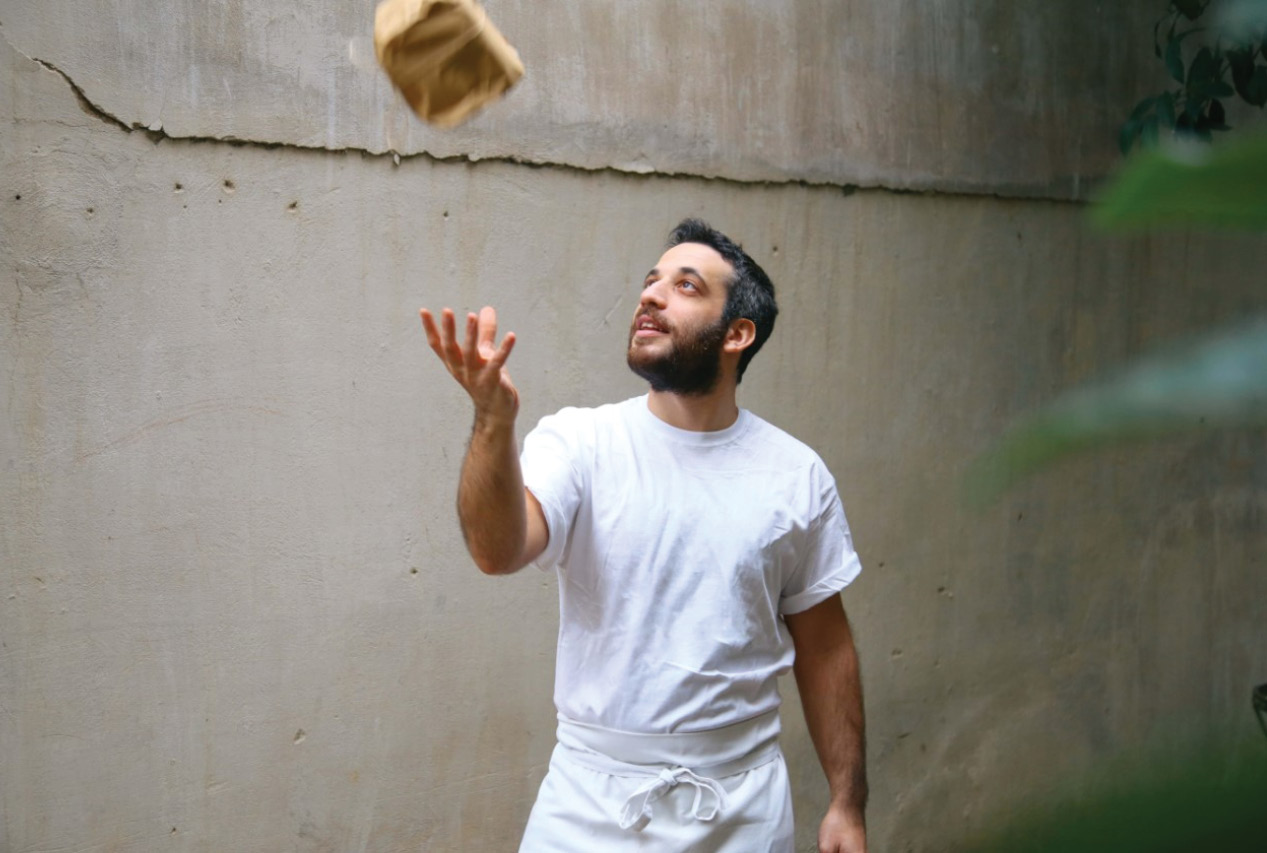 Antonis Selekos, pastry chef at Funky Gourmet, is making fresh sweets and delivering them directly at your doorstep. Are you interested in some panettone?
How did you decide to get into pastry making?
Pastry came somewhat naturally, so to speak. In the summer of 2006 I found myself in the family bakery, in Astypalea, helping and learning at the same time in any way that I could back then. In the beginning, I was happy that I was making my own money. Then I started to prefer sweets over bakery and I wanted to learn how to make sweets and get the education in pastry making that some foreign countries had. I love to cook, but the pastry calms me down a bit.
What was the inspiration behind the project "My Panettone"?
I love pasta and dough very much. They have a story to tell and a technique that has won me over. Panettone is a dessert that requires dedication and consistency. Two summers ago in Astypalea, between relaxed conversations and plenty of food, the idea was to make something and deliver it myself, to have my own identity. So we found ourselves trying out my experiments and at the last minute, I announced the project "My Panettone". That will follow me in the future.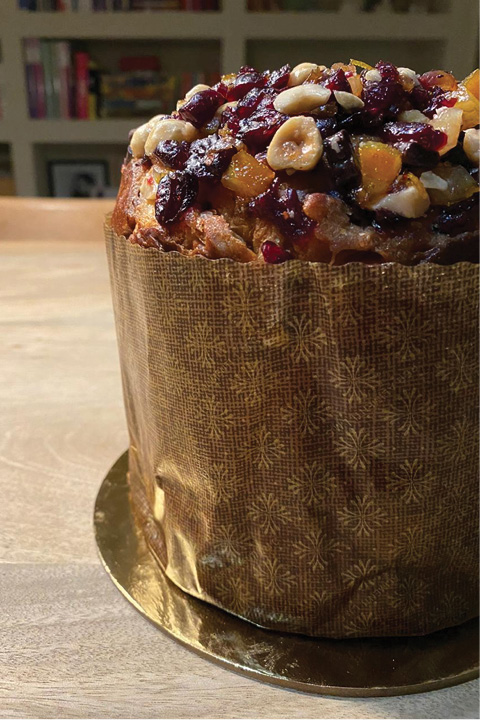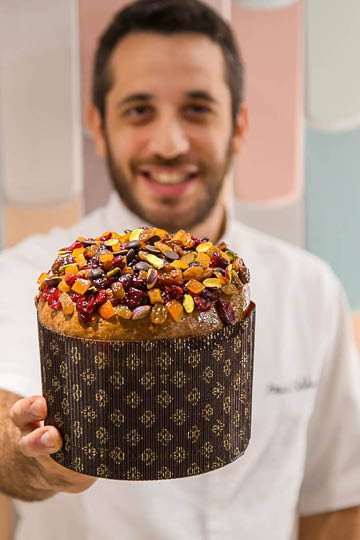 "IT ALL STARTED BACK IN SEPTEMBER 2020 WITH A CRAZY IDEA. LET'S MAKE A HANDMADE, DELICIOUS PANETTONE WHICH WILL BE DELIVERED BY US TO OUR CUSTOMERS DURING CHRISTMAS. AND SO, IT HAPPENED WITH WHAT WAS A GHOST KITCHEN. WE NAMED IT THE "MYPANETTONE" PROJECT AND WE WERE ALREADY SOLD OUT BY THE END OF DECEMBER 2020. ONE YEAR LATER MY TEAM & I RETURNED WITH OUR NEW CONCEPTUAL DESSERT STUDIO IN PAGKRATI, SAME TEAM, SAME CONCEPT ALL YEAR LONG & A FEW SIGNATURE CUSTOM MADE DESSERTS FOR YOUR BIRTHDAY OR SPECIAL OCCASIONS."
Are there any thoughts for similar projects in the near future?
Yes! The idea is, in addition to my main job, to make some sweets over time and deliver them myself, door to door. As if your neighbor brought a sweet to your house. From the packaging to the product, I wanted it to be a homemade and safe dessert made with love and carrying my own personality. " Bake with love ".
If you had to choose one dessert that summarizes the pastry/baking/gastronomic tradition of Greece, what would it be and why?
Difficult question. Most sweets in Greece have roots in the East for obvious reasons and so we can not say that there are Greek sweets, but we have excellent raw materials that can be used into Greek sweets. Olive oil, Chian mastic, the mandarins of Astypalea, the dried figs of Messinia and even the Kozani saffron are materials that can be the foundation of a book about traditional sweets in Greece. There used to be good raw materials, but there was no know-how. Now, we have excellent pastry chefs who together could lay the foundations and get our own place on the world map of pastry making, contributing to the cultural heritage of our country. But with certainty, I can say that for me the sweets that summarize the Greek pastry are the melomakarona and the sour cherry spoon sweet.
Melomakarona are highly associated with the Greeks and Christmas. Greek honey in combination with local nuts is something that has been with us for a long time.
Greece has an abundance of fruits and in difficult times someone thought to combine them with sugar. As much as it seems easy for someone to make spoon sweets, they deserve congratulations.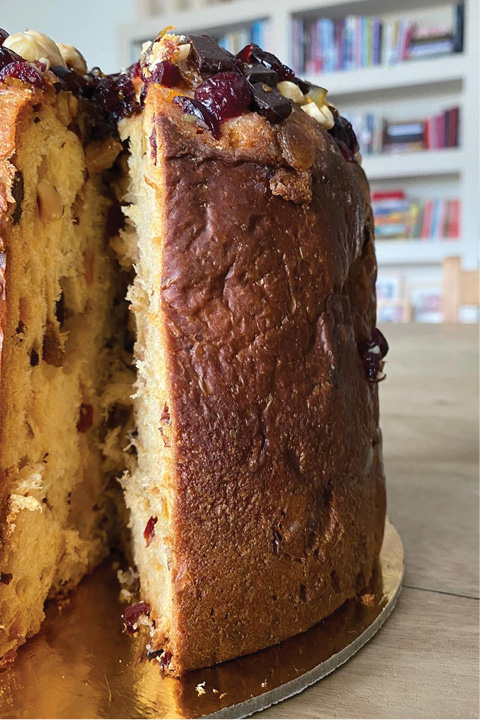 Antonis Selekos is Pastry Chef at Funky Gourmet. While the restaurant is closed, he works as usual on the development part. He provides his own consulting in Cyprus in a new project and in the upcoming days he will start a collaboration in the same field with the restaurant Erimitis in Paxos. The project "My Panettone" went unexpectedly well and now he is rehearsing the next dessert that will follow. Finally, for this summer he is preparing the first Gastronomy Festival of Astypalea and at the same time he is writing a book about the island's gastronomy.