POET OF BROKENNESS
Leonard Cohen's haven
HYDRA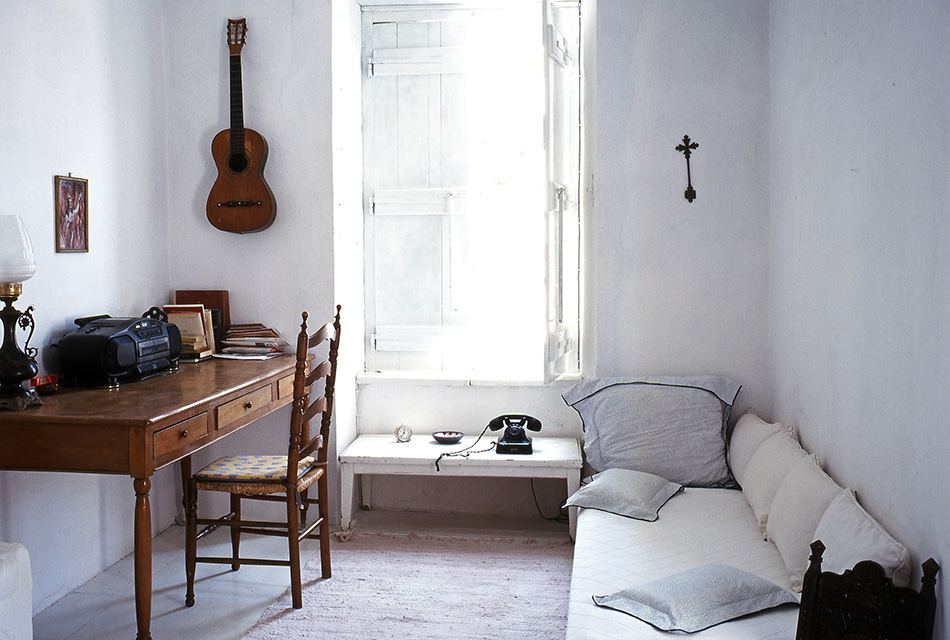 The house of the legendary Canadian singer, songwriter, poet, and novelist Leonard Cohen in Hydra was his refuge for concentration and meditation, the place that he returned to, when his obligations allowed it.
I was a kid when I first heard Leonard Cohen's music. Afterwards, I would seek it out at teenage parties, as well as later, going to Paris to study in the Fine Arts School and History of Art in the Louvre School, his music always kept me company. In 1988, with his song "First we take Manhattan", I set a goal of moving to New York. I went in 1993 and have lived there since, working as an artist. In the late 90s, an old friend, Christos Zambounis asked me to create a book with him about Hydra for his publishing house "Phereniki". I found myself photographing some of the most beautiful houses on the planet. Among them, the house of my favourite artist Brice Marden and most importantly of the great composer, writer and singer Leonard Cohen. Setting out to photograph his house, I expected to see some luxurious villa of an internationally acclaimed music star. I was pleasantly surprised to see a humble and traditional small island house.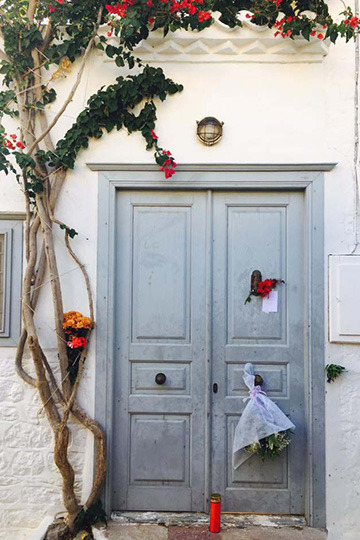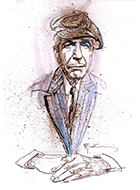 DAYS OF KINDNESS
GREECE IS A GOOD PLACE / TO LOOK AT THE MOON, ISN'T IT / YOU CAN READ BY MOONLIGHT / YOU CAN READ ON THE TERRACE / YOU CAN SEE A FACE / AS YOU SAW IT WHEN YOU WERE YOUNG / THERE WAS GOOD LIGHT THEN / OIL LAMPS AND CANDLES / AND THOSE LITTLE FLAMES / THAT FLOATED ON A CORK IN OLIVE OIL / WHAT I LOVED IN MY OLD LIFE / I HAVEN'T FORGOTTEN / IT LIVES IN MY SPINE / MARIANNE AND THE CHILD / THE DAYS OF KINDNESS / IT RISES IN MY SPINE / AND IT MANIFESTS AS TEARS / I PRAY THAT A LOVING MEMORY / EXISTS FOR THEM TOO / THE PRECIOUS ONES I OVERTHREW / FOR AN EDUCATION IN THE WORLD
HYDRA, 1985. LEONARD COHEN
The cosmopolitan Cohen, after wandering all over Europe, chose this place in Hydra to settle down. In this house, which was traditionally constructed with simple lines, he lived for seven consecutive years, from 1960 to 1967, with his then partner Marianne Jensen and her son Axel, before returning to Nashville, USA to follow a music career. Afterwards and until he died in November 7, 2016, it was his sanctuary for concentration and meditation, the place that he returned to, whenever his obligations allowed it. Cohen changed very little in this beautiful 19th century island style dwelling. He kept the distinctive character of the house, the garden and the decoration. This building, similar on the outside with the rest of the island's traditional homes, is on one of the highest points of the town. He preferred to "climb" the steep landscape of the town, to reach his home, rather than find a more accessible house. From here though, the view to the port leaves you breathless, just as the uphill climb…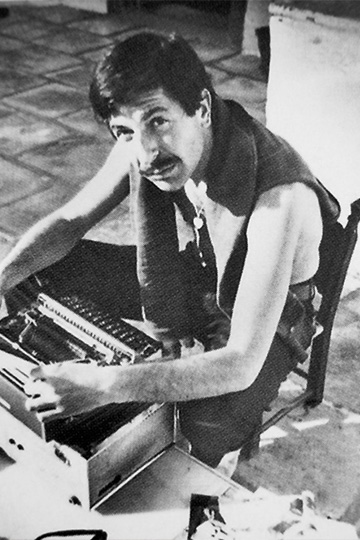 The time he spent in this house, was marked by his intense alcoholism, as well as his dynamic artistic output. This is when he wrote his poem collection "Flowers for Hitler" and his novels "The Favourite Game" and "Beautiful Losers", with the first being an autobiography, the portrait of a writer that discovers his identity through writing. These three works made him known all over the world and established him as a poet in literary circles. For those days in Hydra, he said in his interview for the magazine "Musician": "To write literature, you try to gather your belongings around you. You need a woman, kids around you. So, there's always food for your inspiration. It's nice to live in a beautiful and orderly house. I had all that in Hydra and so I began to write".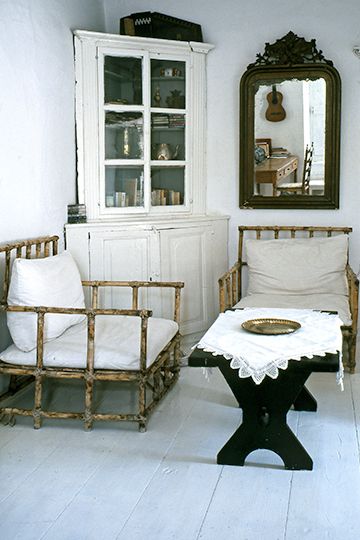 "IN THE GUEST BEDROOM, THE TRADITIONAL DECORATIVE ELEMENTS WERE ALSO DOMINANT, BUT THE BED - WHICH WAS A THICK MATTRESS RESTING DIRECTLY ON THE FLOOR AND COVERED WITH A RICH MOSQUITO NET - ALLUDED TO AN ORIENTAL STYLE. "
COSTAS PICADAS
Entering from the front gate to take photographs, I found myself in an unexpectedly large – by the island's standards – garden. A stone building, with white dominating its exterior, as well as its interior as I would find out later. I noticed the ceilings with the single piece, rough and irregular tree trunks that support the thatched roof, as is customary in traditional Greek island dwellings. The bedroom and dining room space was continuous, but with two steps and an arch above, creating a natural divide between them. In the corner, two shirts hanging from the ceiling made me wonder if their placement was an artistic intervention or just a practical solution.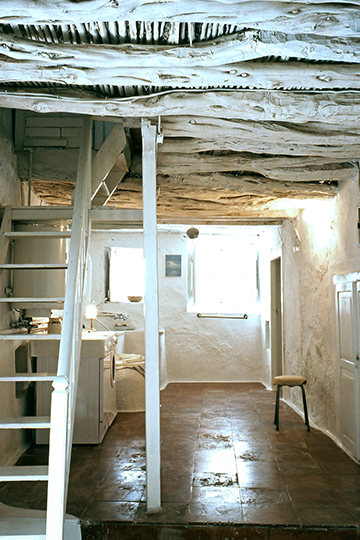 In the living room, the sofa was built into the wall, dressed with a white cover. Alcoves in the thick stone wall functioned as decorative shelves, creating interesting shadows on the white surface of the wall. Old wooden carved furniture from Hydra were in all the rooms. The house's internal doors as well as the walls, were adorned with paintings of Hydra landscapes. The same theme was painted on an old commode, on which an old Singer
sewing machine stood out. In the kitchen the fireside ledge had been preserved and had been redone to enhance its utility. Various kitchen utensils were hung around the hearth, revealing a simple but also creative approach to daily cooking.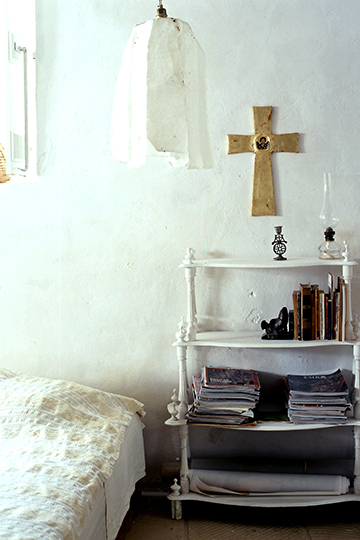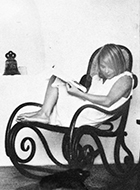 THE TIME THAT HE LIVED IN THIS HOUSE WAS MARKED BY HIS INTENSE ALCOHOLISM, BUT ALSO HIS DYNAMIC ARTISTIC OUTPUT. AND IT WAS HERE, THAT HE MET MARIANNE, A YOUNG WOMAN OF GREAT BEAUTY, HIGH INTELLIGENCE, DEEP SYMPATHY AND FUN. THE GODS HAD DRAWN THEM TOGETHER, AND TOGETHER FOR 10 YEARS OR SO THEY WOULD MAKE MUSIC, EXPLORING THE WORLD AND THEMSELVES, UNHARRIED BY OUTSIDE PRESSURES, RESPONDING ONLY TO THE MORE MEANINGFUL PRESSURES OF LIFE AND LOVE.
- Prophet of the heart, Loranne S. Dorman & Clive L. Rawlins, Omnibus Press, 1990.
The floor was covered by wooden boards, painted in a light tone and in some places was covered with rugs. In other places were coloured cement slabs, that had grown shiny from long use. Al the lights were old. But the house's surprise was… outside: After the stone fence, the visitor would find a small, shaded paradise, with cool corners that embraced the house from all around.
The book about Hydra was never published… But the photos of Leonard Cohen's home were published in magazines all over the world. The feelings of simplicity and deep inspiration from this house, have remained in my heart. One of my works is in his memory.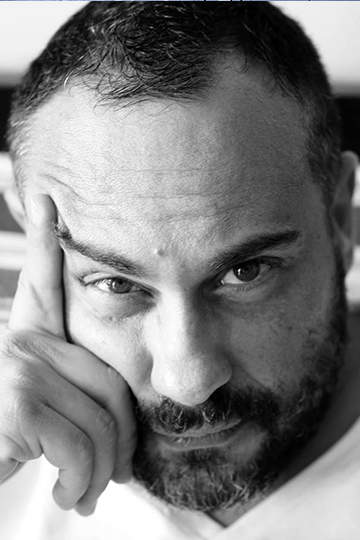 Bird on the Wire
Bird on the Wire began in Greece, when Cohen first arrived in Hydra, there were no wires on the island, no telephones and no regular electricity. But soon telephone poles appeared, and then the wires. I would stare out the window at these telephone wires and think, how civilization had caught up with me and I wasn't going to be able to escape after all. I wasn't going to be able to live this eleventh-century life that I had thought I had found for myself. So that was the beginning. Then he noticed that the birds came to the wires. The next line referred to the many evenings Cohen and friends climbed the endless stairs up from the port of Hydra, drunk and singing. Often you see: three guys with the arms around each other, stumbling up the stairs and singing these impeccable thirds. He finished the song in a Hollywood motel on Sunset Boulevard in 1969.
[SOURCE: Various Positions - A Life Of Leonard Cohen, Ira B. Nadel, Random House of Canada, 1996.]
(1) Prophet of the heart, Loranne S. Dorman & Clive L.. Rawlins, Omnibus Press, 1990.
(2) Various Positions – A Life Of Leonard Cohen, Ira B. Nadel, Random House of Canada, 1996.
This article was first published in Thalassea Magazine Summer 2018, Issue #1