CHURCHES
Closer to God
SKIATHOS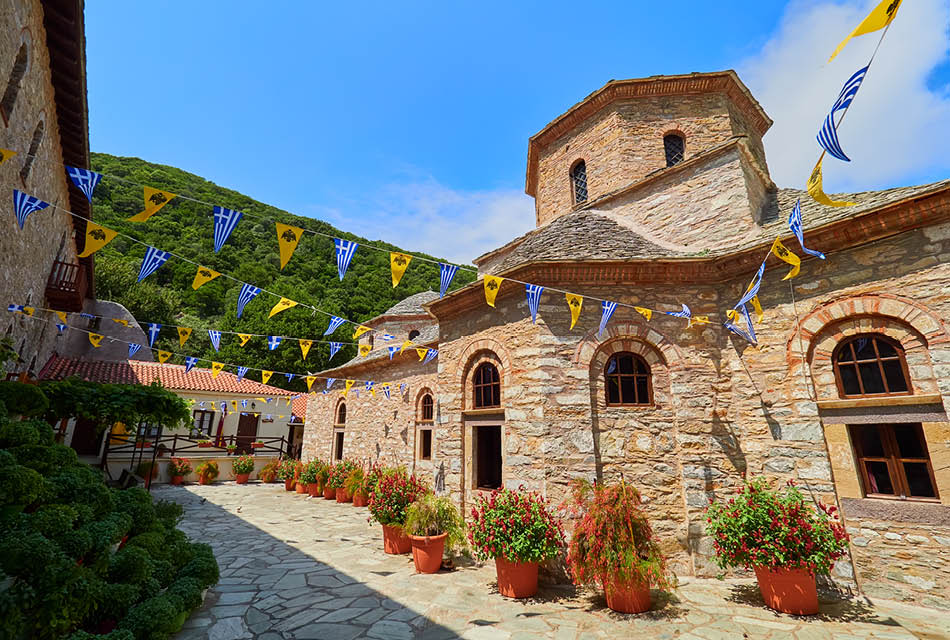 Historical churches that represent the strong religious tradition of Skiathos.
Stonebuilt, post-Byzantine, modern. The churches in Skiathos play the most important part in the religious aspect of the island, inviting visitors to a journey through time in the history of this land. We begin with the Three Hierarchs basilica in Chora, Skiathos, where important pastors such as Adamantios, father of world famous author Alexandros Papadiamantis, have serviced. Here you can find some very important sacred relics from the entire island, whereas the tradition of the old-style liturgies and the Kolivades are still preserved.
The second parish church of the island with its impressive bell tower, Panaghia Limnia, was built in 1838 by refugees who fled from Limni, Euboia – hence the name. This is where the skull of Papadiamantis is kept. Smaller in size but just as significant, safe in the embrace of beautiful pine trees, the single naved dome basilica of Panaghia Ikonistria was built in the 17th century and celebrates the Presentation of Mary, as this is where the sacred icon of the Holy Virgin was found.
Continuing our journey through the beauties of Skiathos's natural setting, Panaghia Kechrias, built on the eponymous bay, includes important religious exhibits and provides a magnificent view, while the Nativity church in Kastro, dated 1695, with its impressive frescoes and the carved wooden iconostasis, are worth the stop at the rocky peninsula where it has been standing for centuries. On a steep corner on the northeastern part of the island, the monastery of St Charalambos, with its impressive iconostasis dated 1822, is the spiritual residence of monk Alexandros Moraitidis, cousin to Papadiamantis and an author as well, who lived his last years here.
This trip couldn't possibly end without a stop at the only active monastery of Skiathos, the one of Evangelistria. Surrounded by the fertile Lehouni river flow, the monastery stands proud in the middle of its gardens, witnessing the great work of the Kolivades monks, since this is where the first flag of the new Hellenic Republic as we know it today was designed, weaved and raised. The monastery also houses a museum and a traditional coffee shop with local products, while it also includes a vineyard and an olive grove.